Newport Harbor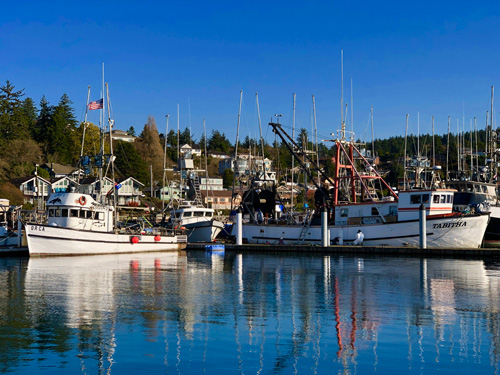 Newport Harbor - Yaquina Bay Oregon




Newport Harbor in Newport Oregon is a quiet, scenic, and peaceful place on Yaquina Bay to refresh your spirit. There are plenty of benches to sit with the sun on your face, and feel a gentle breeze coming off the Bay.
Barking sea lions punctuate the morning stillness as fishing boat crews silently make their way across the dock.
Make no mistake, Newport is both a working town and a tourist town...but you can find some large sections of peaceful solitude down at the harbor if you plan well.
Visitors from all over have been coming to both Nye Beach and the Historical Bayfront since the 1800's. They also come to see the Yaquina Head Lighthouse, which at 93', is Oregon's tallest lighthouse.
The Newport Harbor area is filled with unique shops, fish processing plants, chowder houses, and art galleries. All of that stuff is enjoyable, but I go to the harbor to get revitalized by the muted morning sounds and the lack of crowds.
Sol Enders is a retired John Deere salesman who moved from Columbus OH to be on the Oregon Coast. He said, "My wife and I moved here, three years ago. It was a great decision. The beauty of the Oregon Coast is overwhelming.
I run down SW Bay Blvd five days a week. When I finish I get a thermos of hot Tazo's Wild Orange Tea, stretch a little on one of the benches facing the fishing boats, then sit and sip while I think about how fortunate I am to live in such a wonderful place.
The harbor here in Newport has something new for me to see everyday. I love the quiet mornings in summer when the sun has just come up. I run before sunrise so I can use the middle of the street. Once it gets to be about 7:00am, a lot of big fish trucks are cruising through here.
Newport Harbor gives me a feeling of renewal. Don't get me wrong, going up the street to the beach is completely revitalizing. We walk the beach several afternoons each week, but the harbor just has a different pull."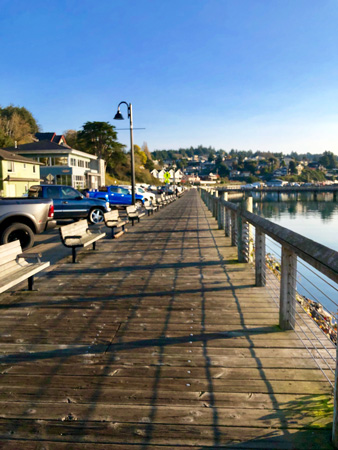 The boardwalk outlining Newport Harbor along SW Bay Blvd has plentiful benches spaced out for about a quarter of a mile. It is very relaxing to soak up the warmth of the morning sun.
The view above is looking north.
Helen Ames, 74, is a retired 4th grade teacher. She moved here 10 years ago, from John Day OR. "I just love Newport Harbor, especially in the summer. When I was teaching, I lived over by John Day, it was pretty in its own way, but the idea of walking in snow and ice during the winter really concerned me as I got closer to retiring. 
I have always loved the Oregon Coast. It seems like such a spiritual environment. John Day was high-desert, but here, you have mountains, craggy coastlines, huge fir trees, and the Pacific Ocean. 
I come out here to Newport Harbor on most mornings and evenings from May through October. It is so restful. I like to visit these little coffee houses along SW Bay Blvd, sometimes. They have unique flavors they are always creating.
When I go to the harbor, I usually bring some kind of devotional, or spiritual book with me. I read a few pasages, and it puts me in a mood to be grateful for all I have. I guess that's really a form of prayer. 
This summer, I actually brought a book called Illuminata by Marianne Williamson, out here several times. It is full of beautiful prayers. I really like it.
Newport Harbor is such a powerful place to revitalize my spiritual connection."
Newport Harbor - Where Cares Evaporate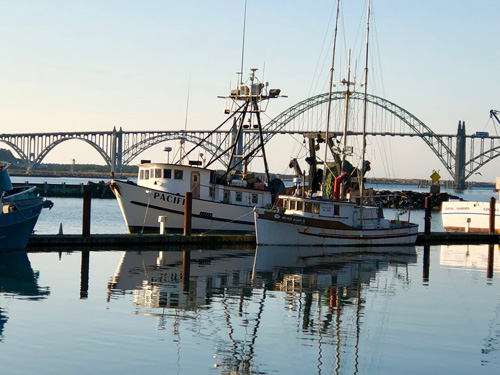 Looking southwest toward the Yaquina Bay Bridge and Highway 101. You can see the stillness of the morning in the reflection off the water.
Newport Marina is laid-back and peaceful. All though this is home to one of the largest commercial fleets, fishing boats are not clanging and charging out to sea. 
The early morning affords much stillness for mindful practice.
Jan Essylton (54) is a writer/photographer transplant from Gilbert AZ, she said, "Newport Harbor is one of the most beautiful and spiritually restorative places I have ever been.
When I left Arizona, I was looking for a place that offered cool weather, without the snow. I dearly love Santa Fe NM, but the snow in the winter kind of frightened me.
I looked very hard at Rockaway Beach, about two hours north of here. I loved the beauty, the open beach, and the solitude...but it didn't offer much in the way of a downtown.
Of course, Rockaway only has about 1300 residents, while here in Newport we have close to 11,000. There is a lot more places like museums, galleries, and city parks to engage with down here.
I love to come down to Newport Harbor and read on one of these benches early in the morning. There are actually quite a few regulars who do the same thing.
I practice gratitude and I get ideas for my poetry. I've also taken some remarkable sunrise photos that have appeared in magazines.
Newport has a mild, wet climate...but it is far more intense in the winter. I'm down here a great deal between the months of March and November. I've filled several of my dot-grid journals just by observing my feelings as I overlook the harbor.
Newport Harbor makes me feel like I'm living out an experience from a Michael Singer book. This is such a beautiful place to refresh your spirit."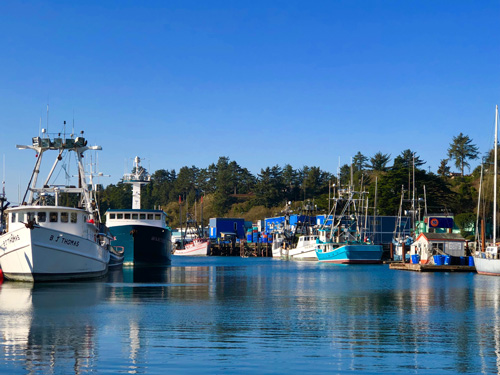 A squadron of fishing boats rocking quietly in the morning sun. Beautiful, cloudless days make relaxing on the boardwalk a coveted experience.
Joan Hesse, 68, retired from nursing four years ago. She said, "I can honestly say that Newport Harbor has benefitted my health. Don't get me wrong, I love the beach here, but the harbor is much less windy and there are so many places to sit.
Plus, I like to go out on the dock and take pictures of the sea lions for my grandchildren. They are a bit smelly, but still they are beautiful, graceful animals. 
I read, out here, for about 30 minutes. Mostly, though, I like taking pictures. I purchased a Canon GX7 Mark II camera, for Christmas a year ago, and it gives me outstanding pictures. I have had several of my Newport Harbor ones blown up into poster-size, and they decorate my walls.
This little harbor keeps me fit, it keeps me interested, and now it has brought me a wonderful new hobby.
This is why I tell my friends in other parts of the country that it really refreshes my spirit."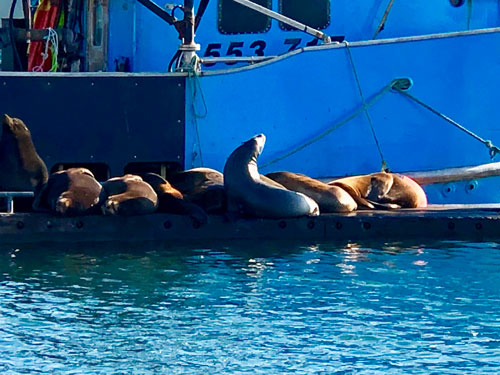 Sea lions are real prevalent on the docks in Yaquina Bay. You'll hear them barking, and see them undulating through the water.
John and Sherry Foucoi are in their early 60's, and retired from the exhausting pace of Atlanta GA.
John said, "We'd never heard of this place until met some friends for dinner in Eugene. When we got back to our rental car, we found a little advertisement stuck under the wipers. It said, 'Visit Newport Oregon'.
We had a couple of days remaining before we returned to Atlanta, so we called AirBnB, got us a great little inexpensive condo for two nights, and drove over."
Sherry continued the story, "It really was love at first sight. Newport Oregon is about as far opposite as you can get from hot, gritty, overcrowded Atlanta.
We came here in late April, and it was beautiful. We'd get up early, take a walk on the beach then come down here to Newport Harbor for breakfast.
We could hear the sea lions bark every once in awhile, but it was just a single throaty call, not an entire choir. On that first day, we walked along the deserted dock to see if one was stranded, or something.
You could have knocked me over with a feather when we came around the bow of one of the big fishing boats, and saw them all sleeping. It was totally unexpected!
We watched them snooze peacefully, saw some slip into the bay to chase their own breakfast, and took a couple of pictures.
When we climbed back up to the boardwalk, we sat down in one of the benches lining the harbor.
I remember turning to John, and said, "We're home, husband.'
John looked at me and said, 'My thoughts are coming out of your mouth, sweetheart. I never felt such a strong connection to any place, like I feel now.'
We both we overcome with the sweetness we felt at the moment. It was such a cool, beautiful, and peaceful setting. We've lived here for two years, now, and Newport Harbor continues to have that refreshing effect on both of us."
Most of the time, they are snoozing in the sun, just like many of the people who come to sit on the benches along SW Bay Blvd.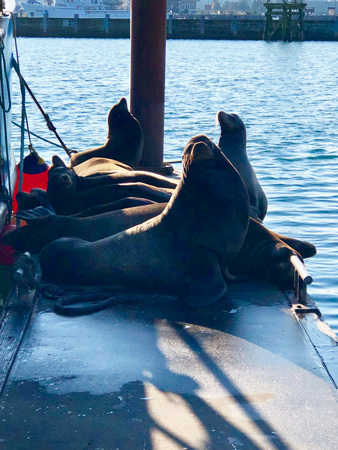 They wake up real quick, though, when crew members start filtering in on the fishing boats. 
Please Do Not bring human food to feed them. These guys are great at finding their own meals, and they need every bit of nutrition to keep from being a buffet item for the great white sharks that seek to eat them.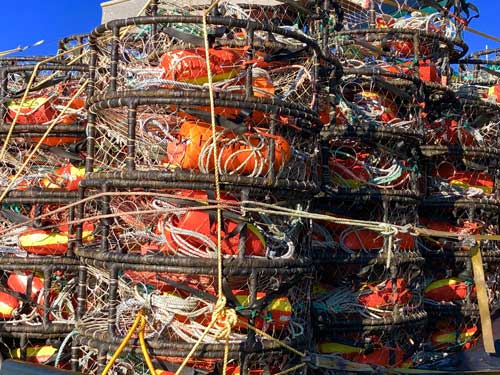 Many of the boats are filled with colorful crab traps. Newport is a "working harbor", although the Yaquina Bay Yacht Club has a thriving membership. 
Steven Yourk (47) is a professional photographer who's been living in Newport for five years. He said, "I sell outdoor pics to several stock agencies. I wanted a homebase that offered me visual stimulation, provided access to other outdoor environments, and had a healthful vibration.
I looked real hard at Jackson Hole WY, but the winters were way too brutal. I also looked at St Petersburg FL. I loved the sailboats, but the summers were just too humid and oppressive.
I settled on Newport Oregon because of the mild weather, the closeness of other interesting small, scenic coastal towns, and the fitness venues available. I thought real hard about buying a place in Eugene, but the traffic congestion and smog pushed me away from that choice.
The more I live here, the more I feel centered.
I met my wife here. She was on vacation from Apache Junction AZ. She passed me while we were both running on the boardwalk around the harbor.
That cracked me up, so I chased her down (when she stopped at the end) and we started talking. I took her to breakfast, then later we walked on the beach and I took her to dinner.
After a year of flying or driving back-and-forth to Arizona, I asked her to marry me. She said 'Yes' but with one condition...we make our home in Newport.
I could not be more happy. 
We spend a lot of mornings down here at Newport Harbor. Sometimes I take shots for business. Mostly, though, we just look out over the bay and give thanks that we have each other, and such a beautiful place that is restorative to our spirits."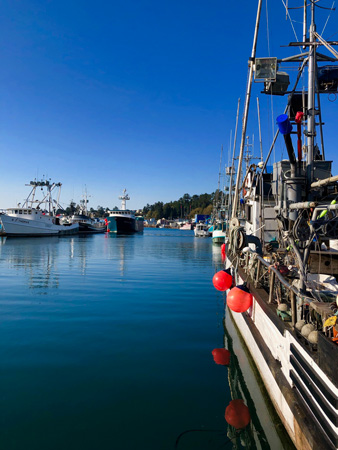 This is about 10:00am on a late November day. The day is clear, the sun is direct, and the harbor water is glassy. Other than a few fishing boat crew members, I've been the only guy out here on the docks for the past hour and a half.
I took a call on my cell phone, and felt like I was breaking the spell of silence out here. The person on the other end asked me why I was whispering.
The harbor is a great place for feeling renewed. The sights, smells, and silence all combine for an uplifting experience. 
If you have been searching for small, but thriving town to refresh your spirit, consider contacting an AirBnB host to save money on lodging, and plan to visit Newport Harbor.
Go to Refresh My Spirit home page from Newport Harbor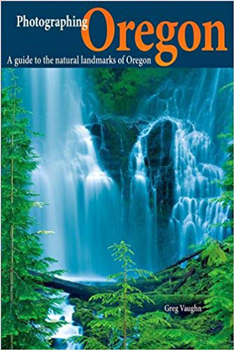 Learn more about photographing the beauty of Oregon.
Filed Under: Newport Harbor




More Books For Spiritual Growth