My Trip To Bozeman Montana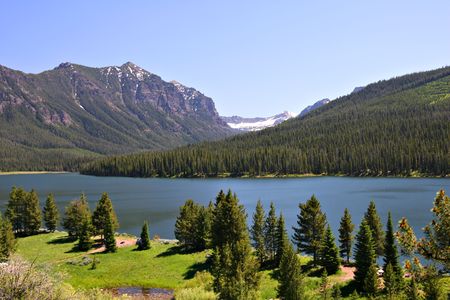 My trip to Bozeman Montana is the first leg of my summer travel out West. I have never visited Montana, and I heard Bozeman was very peaceful.
I was looking for a place to recharge my spirit. My winter home, in St Petersburg FL is beautiful, but it gets way too hot and humid for me to enjoy outdoor activities in the summer.
I knew Bozeman was about the same size and elevation as Prescott AZ...but without all of the summer traffic and chaos.
Refreshing my own spirit meant running on cool, crisp mornings...sitting at an outdoor cafe and running my online business...and, meeting new friends in the downtown area and the gym.
Refreshing your spirit isn't about doing a lot of new things, it is about doing quality new things without hurry, that will revitalize you.
Bozeman MT is not on everyone's bucket list (although it should be) and it is usually never mentioned by well-known travel writers, or online booking agencies. 
Most consider it an isolated little Western town, filled with ranchers and college kids who don't know anything other than Montana.
Sadly, all of the experts are very wrong. Bozeman is vibrant in a restful and restorative way. That's why I want to be there, and that is why I want you to think strongly about visiting it.
Staying True On My Trip To Bozeman
I wanted to maintain the good health habits I already have, even though I would be traveling. To me, that meant:
1) Maintaining a spiritual foundation. Taking time throughout the day to read from a devotional, give thanks for all the blessings I have experienced, and pray to be directed on how to become a better person.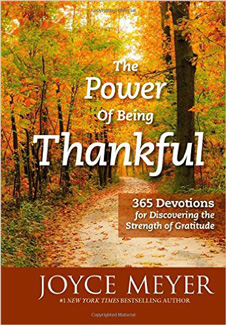 I brought with me Joyce Meyer's, The Power Of Being Thankful.
I have always enjoyed her books, and I thought this would be another that would benefit me. 
She speaks in everyday language that a guy like me can easily understand...and hopefully integrate into my everyday life.
I also downloaded to a thumb-drive, all of the podcasts I could find from Marianne Williamson. To me, she really has a grasp on how big an impact forgiveness plays in your life.
Finally, I took along Joel Osteen's new best-seller, Fresh Start: The New You Begins Today. His books and presentation have had the most positive effect on my life.
2) I wanted to eat cleanly and maintain my Paleo lifestyle as much as possible.

I figured I could have great breakfasts (eggs/bacon) in the morning, and get large salads, with chicken breast or beef for lunch and dinner.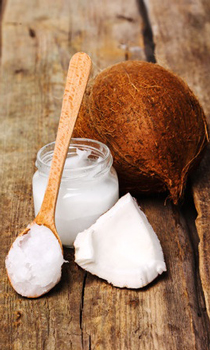 For snacks, I brought along a large jar of virgin coconut oil, a spoon, and just purchased a bottled water each time I stopped for gas.
To me, coconut oil is the absolute best source to increase your intake of quality fats.
I knew that during the five days I would be on the road, I could maintain my blood sugar levels, and not put on any fat just by eating a few tablespoons of coconut oil, each day.
My mind would stay clear, I would not get sleepy at the wheel, and my trip to Bozeman Montana would be one of mental clarity.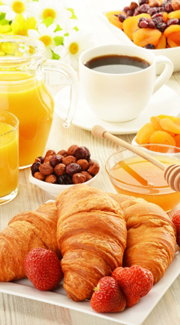 Sadly, the continental breakfasts provided by motels are a recipe for Type 2 diabetes.
There is nothing to choose from that is nutrient dense...other than maybe a banana or an apple, and they are loaded with sugar.
All of the food on the free breakfast menu is high-carb, highly-processed, full of high fructose corn syrup...and loaded with calories.
It was unsettling to pass by the motel breakfast room, and see all of the people in there loading up on sugar cereals, pastries, and waffles slathered in processed sweetened syrups.
Everyone always looked unhappy, lethargic, and overweight. I did not want to feel this discouraged my trip to Bozeman.
It doesn't have to be this way. We can all refresh our spirits by eating natural foods -- lots of vegetables, quality fats from sources like coconut oil, avocados, or bacon, beef/poultry/fish, some nuts or seeds, and an occasional fruit.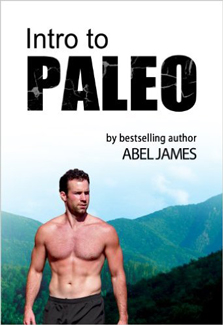 Before I left St Pete, I made another thumb-drive full of 48 podcasts from Able James.
He is the best-selling author who wrote the easy-to-understand, Intro To Paleo, but then shocked himself by creating a blockbuster new book called, The Wild Diet.
This was one of the smartest investments I have ever made to refresh my spirit.
In each podcast, Abel interviews cutting-edge proponents of eating a high-fat...medium protein...and low-carb diet.
It was a great education. I learned a tremendous amount about the degenerative effects carbohydrates have on both our bodies, and our brains.
I hope I can get the word out to help those who are younger than me.
We have been brain-washed into thinking "Whole grains and low-fat" are the key to fat loss and healthy living...when in truth, that mantra is destroying America with obesity and preventable diseases like Type 2 diabetes.
3) I wanted to maintain a good level of fitness while I was on the road.
Fortunately, most motels are located near shopping centers, or streets leading into industrial areas. The shopping centers provide large parking lots to run in at sunrise, while the industrial areas provide more straight line running.
I figured I could always find benches or curbs to do some elevated push-ups. 
I also brought a jump rope to do sets of double-unders.
On a five-day trip, I figured I would have two sprint days, two days of 40-minute Maffetone Method running, and a day of just walking to recover.
On days when I am near a park or elementary school, I'll look for a pull-up bar.
My Trip To Bozeman Montana
In Pictures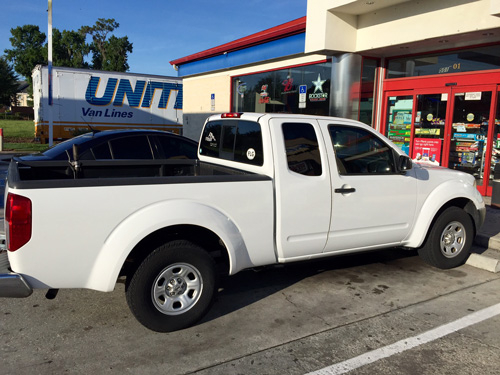 I got gassed up on June 30th in St Petersburg FL. It was 90 degrees, about 88% humidity, and forecasts of a lot of rain headed my way. 
Although I love St Pete, it is discouraging to run, workout, and live an active lifestyle in the hot summer heat. I needed to refresh my spirit.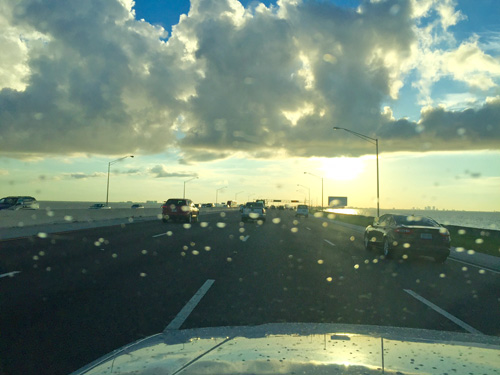 I left St Petersburg on July 1 (2016). It was already about 83 degrees, 90% humidity, and it was starting to rain. My trip to Bozeman Montana was starting out a little suspect.
This is sunrise, heading north on I-275 over the Howard Franklin Bridge. Fortunately, I was well-ahead of the morning traffic that forces a standstill into Tampa, and frays nerves on a daily basis.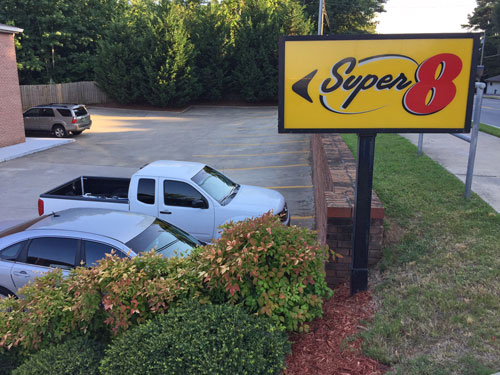 On Day 1, I drove 555 miles, and spent the night in Acworth GA. I thought the Super 8 would be an inexpensive lodging.
Geez, was I wrong.
With the 4th of July weekend coming up, I ended up paying $97. I could not believe it.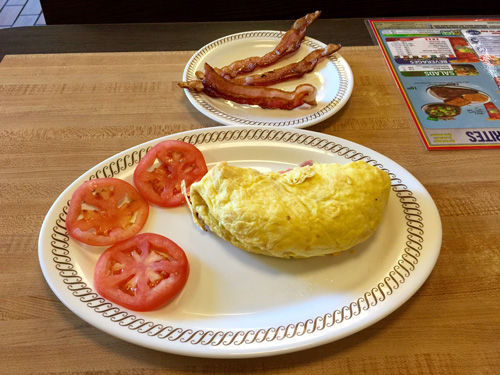 My plan during this trip was to continue eating within the boundaries of my Paleo lifestyle. Being a CrossFit athlete, and not wanting to join the ever-increasing list of Type II diabetes victims, I stay with high fat, medium protein, and low carbs.
I actually wanted the breakfast I missed back in St Pete...so I ordered an omelet and bacon at the Waffle House next to the motel.
Afterwards, I walked to the Publix supermarket to pick up breakfast for the next morning. I didn't want to eat the same thing 12 hours later.

I, also, did not want to eat any of the free Continental Breakfast provided by the motel. It is all sugar cereals, high-carb/high-processed pastries, breads, and biscuits.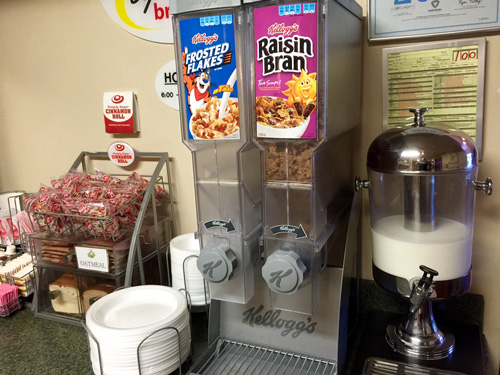 The free breakfast offered by motel chains may feel good in your wallet...but it destroys your body and your brain.
The high-sugar/high-carb foods wreck your auto-immune system, spike your blood sugar, create insulin resistance, harm the collagen in your facial skin, and push you strongly to a life with Type 2 diabetes.


Day 2 - My Trip To Bozeman Montana
I started the morning about 5:30am. After a good warm-up, I sprinted 4x40m, then 4x400m (just guessing) I tried to hold a 1:50 pace with a minute's rest in-between.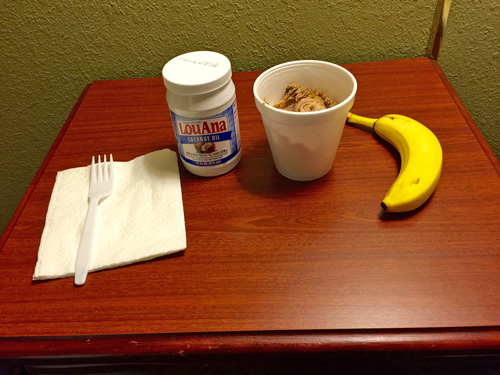 At the Publix, last night, I got a 1/2-pound of some slow-cooked pork. It was the best option I had for protein. They did not carry the fresh rotisserie turkey breasts I purchase at my Winn-Dixie back in St Petersburg.
I added a banana from the motel free breakfast, and popped a couple of forkfulls of coconut oil.
This worked great. I was clear-headed the whole way to Wentzville, MO. Day 2 of my drive to Montana was starting well.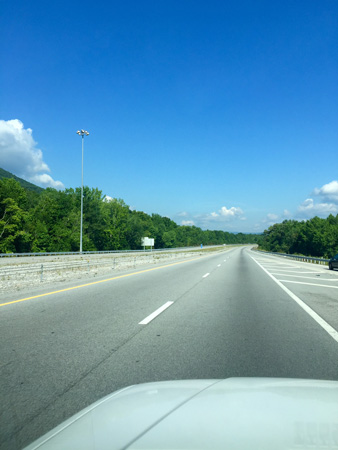 I saw some beautiful country in Tennessee and Kentucky. It was sunny and clear most of the way. It didn't get rainy until I got into Missouri.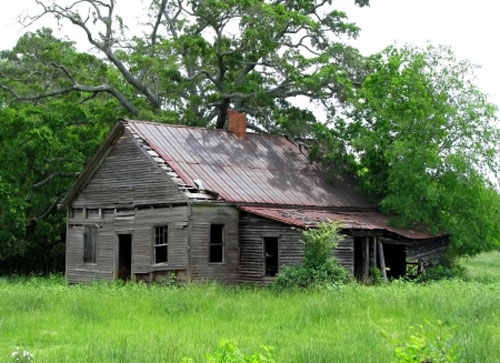 Kentucky was particularly interesting because I saw many old, dilapidated homes and barns. These were the iconic ones you see in calendars. I wanted to stop and photograph each of them, but my trip to Bozeman did not allow the time.
Maybe on my next trip, I will spend a month during the Fall in Kentucky, and take a lot of shots of these beautiful old structures.
(This is not one of my photos. It was taken by Shari Armstrong.)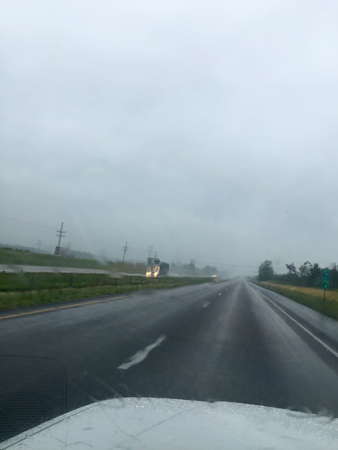 I was glad to get to the Super 8 on Day 2. The weather was bad, there was low light, and I wanted to get off the road.
I drove 564 miles to Wentzville MO. That was enough on this leg of my trip to Bozeman.
The rain must have made me stupid, and even the coconut oil I ate along the way did not help.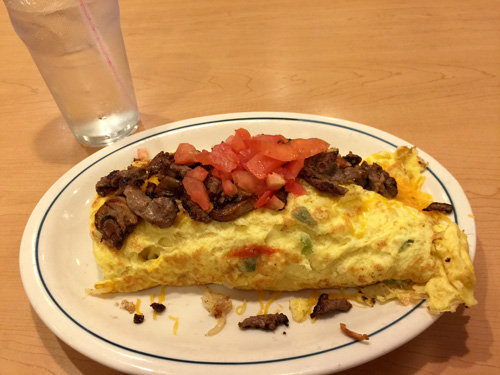 I made a huge mistake by eating this giant Denver Omelet at the Waffle House in Wentzville.
It was way too filling. I cannot imagine eating the grits and pancakes that came with it.
It felt like I waddled out of there. Not one of my brighter moments.
I will never order that, or anything close to it, again.
(Stayed Paleo, though...)
Day 3 - My Trip To Bozeman Montana
I started the day attempting to run back-and-forth through an industrial area, but after 30 minutes, the rains hit me at 6:30am
That was no fun. I was hoping to run off the bad feeling from jamming my stomach full of that Denver Omelet from the night before.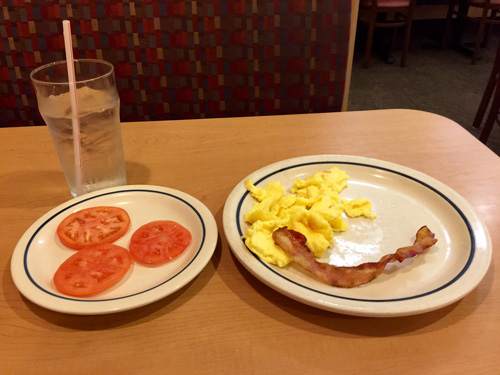 After a shower, I made a better start with a good breakfast of bacon and eggs. (Sorry, I ate a few strips of bacon before remembering to take the picture with my iPhone.)
When I got back to my room, I had two spoonfuls of coconut oil. I was ready to go.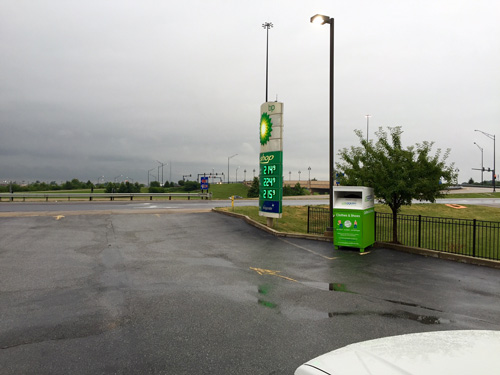 It was still raining hard when I pulled out of Wentzville MO. I was not looking forward to this drive, but put that out of my mind and ask God to send his angels out ahead, and to keep me alert.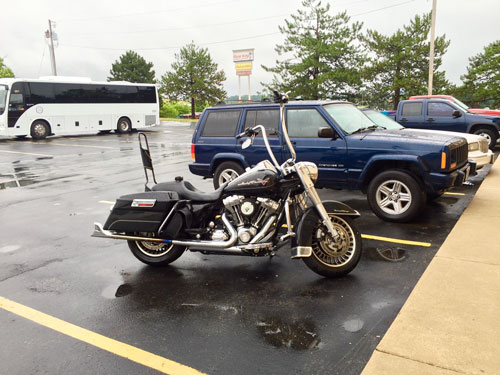 There were several guys traveling on motorcycles. I did not know where they were headed, but I wanted them to be blessed. 
I really do not know how those guys do it.
My trip to Bozeman passed through parts of Iowa and Nebraska, to get to South Dakota.
It was pretty rainy for a lot of the drive. I did not want to try to take a picture while driving.
Fortunately, when I pulled into Sioux Falls, South Dakota, it was beautiful. After 566 miles I just wanted a good salad, a warm shower, and get into bed.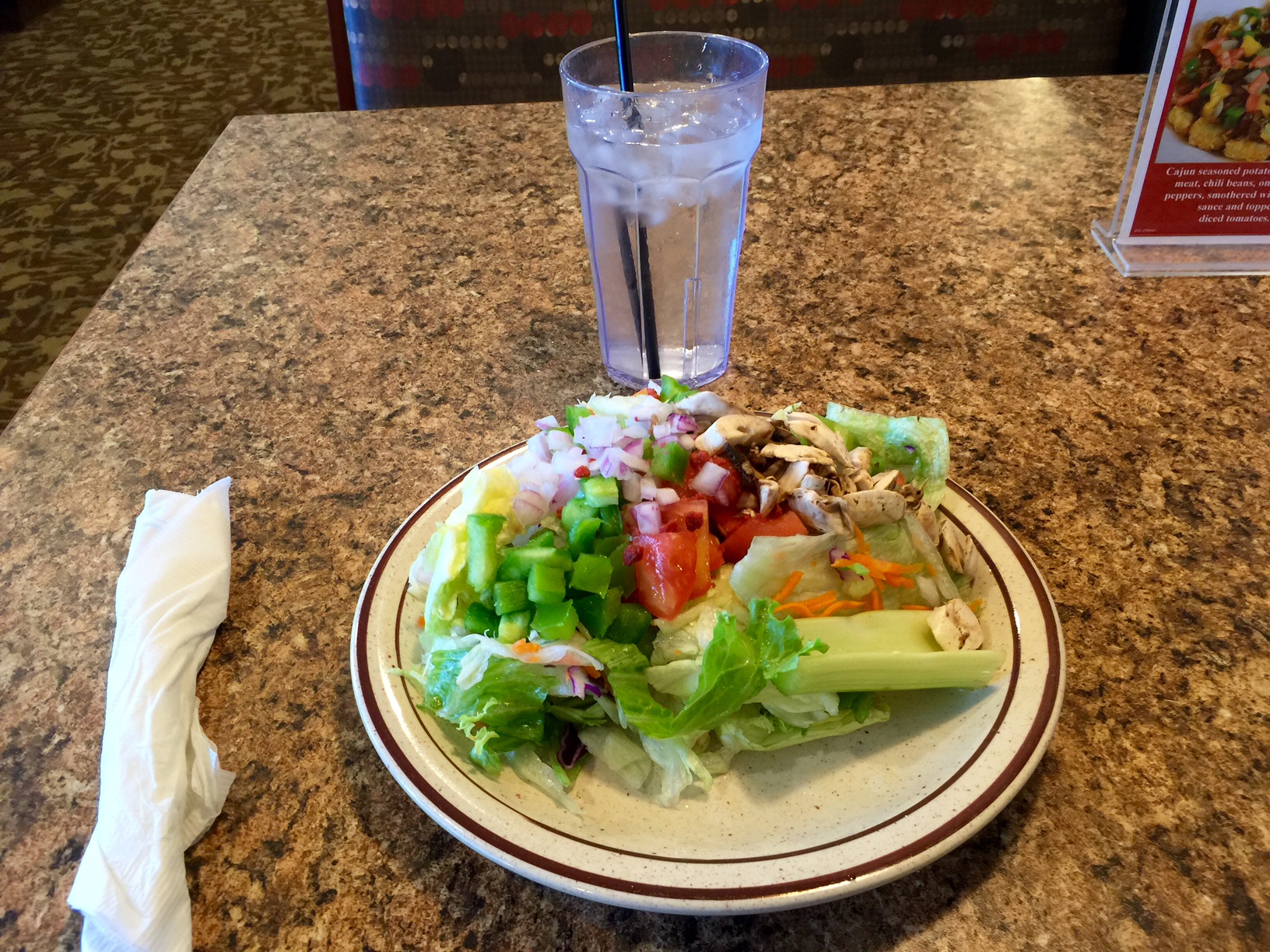 I was fortunate in Sioux Falls that the place I chose to eat (The Frying Pan Restaurant) had a salad buffet. I went back four times. 
I ordered a grilled chicken breast by itself.
This was a great deal. I slept real well.
Day 4 - My Trip To Bozeman Montana
I started the day with a run around Empire Mall. Actually, I went around three times, using the Maffetone Method, but would throw in a set of 40 elevated push-ups on the outdoor benches at the Burger King. 
It worked out great. I spent 45 minutes total. It was cool with low humidity. I was ready for a great day of driving.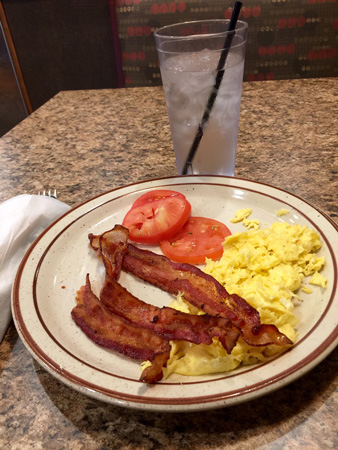 After a hot shower, I fuel-up with my usual plate of bacon, eggs, and sliced tomatoes at The Frying Pan. I downed two Tbs of coconut oil and was jacked-up to get into Wyoming.
Cowboy country was here at last.
I did not know what to expect. I had never traveled extensively on July 4th.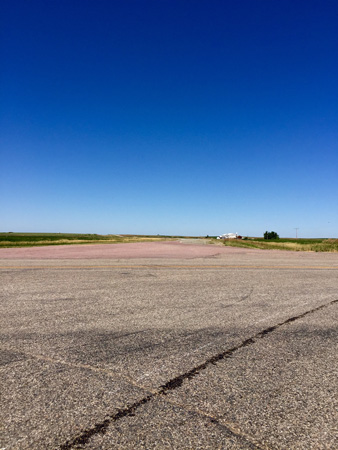 After two hours, and 156 miles, I pulled into Reliance, South Dakota for some gas and to get a bottle of water. The girl at the counter told me only about 200 people lived here.
It was pretty sparse for miles.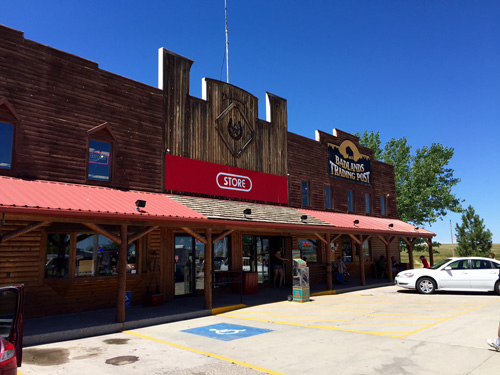 Another 120 miles down the road, I saw a sign for the Badlands Trading Post. I figured I needed to visit one of these iconic fixtures along the roads, out west.
This is the first one that caught my eye.
Strangely, while I was putting gas in my truck, I had a heavy cloud of loco weed float past me. This cracked me up because all of the other people at the pumps were at least 70-years old.
I guess there were some throwback hippies reliving a road trip from the 60's.
Blessings to all! Not my idea of refreshing my spirit on a trip to Bozeman Montana...but everybody has their own path.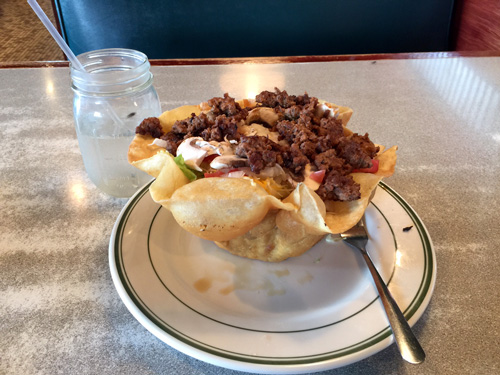 An hour later I got hungry, so I pulled in for lunch at Marlin's Family Restaurant in Rapid City, SD.
The best-sounding salad came in a huge taco-styled bowl. It was great.
(And, no, I didn't eat any of the bowl. It smelled great, though.)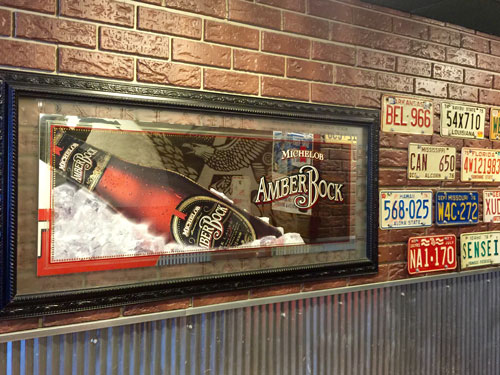 The backwall/hallway leading to the restrooms looked like deco out of the 1950's in Marlin's. It was a nice place.
I was real close to Wyoming, now.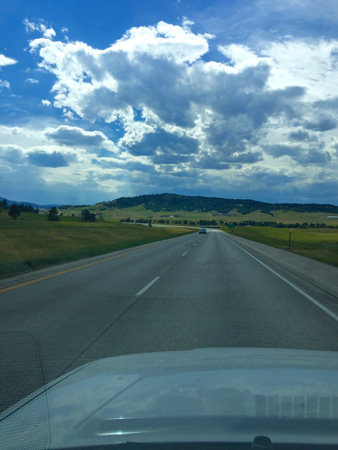 Oddly, it started getting cloudy as I crossed into Wyoming. I saw there was a Welcome Center coming up in Sundance, Wyoming, but wondered if it was open on the 4th Of July.
It wasn't. Imagine that...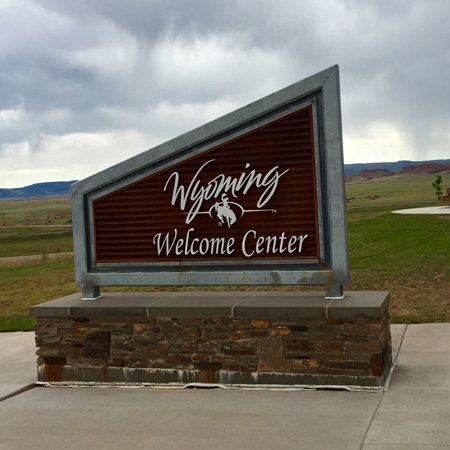 Still, it was an inviting place. Extremely well-maintained.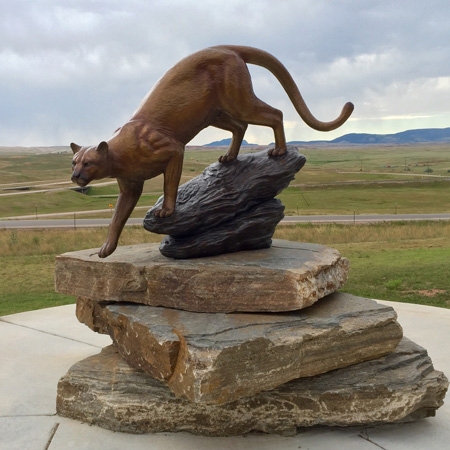 I really liked this bronze statue of a cougar. It conjured up all kinds of images I had of the West when I was a little kid.
I wrestled with spending the night, here, because Devil's Tower National Monument was just a few miles north, but I thought I might get rained out.
I decided to push on to Buffalo WY, which was only about 136 miles due west on Interstate 90. 
That would give me a leisurely 308-mile drive to Bozeman.
I wanted to take it easy and see the Little Big Horn Battlefield (site of Custer's Last Stand) along the way.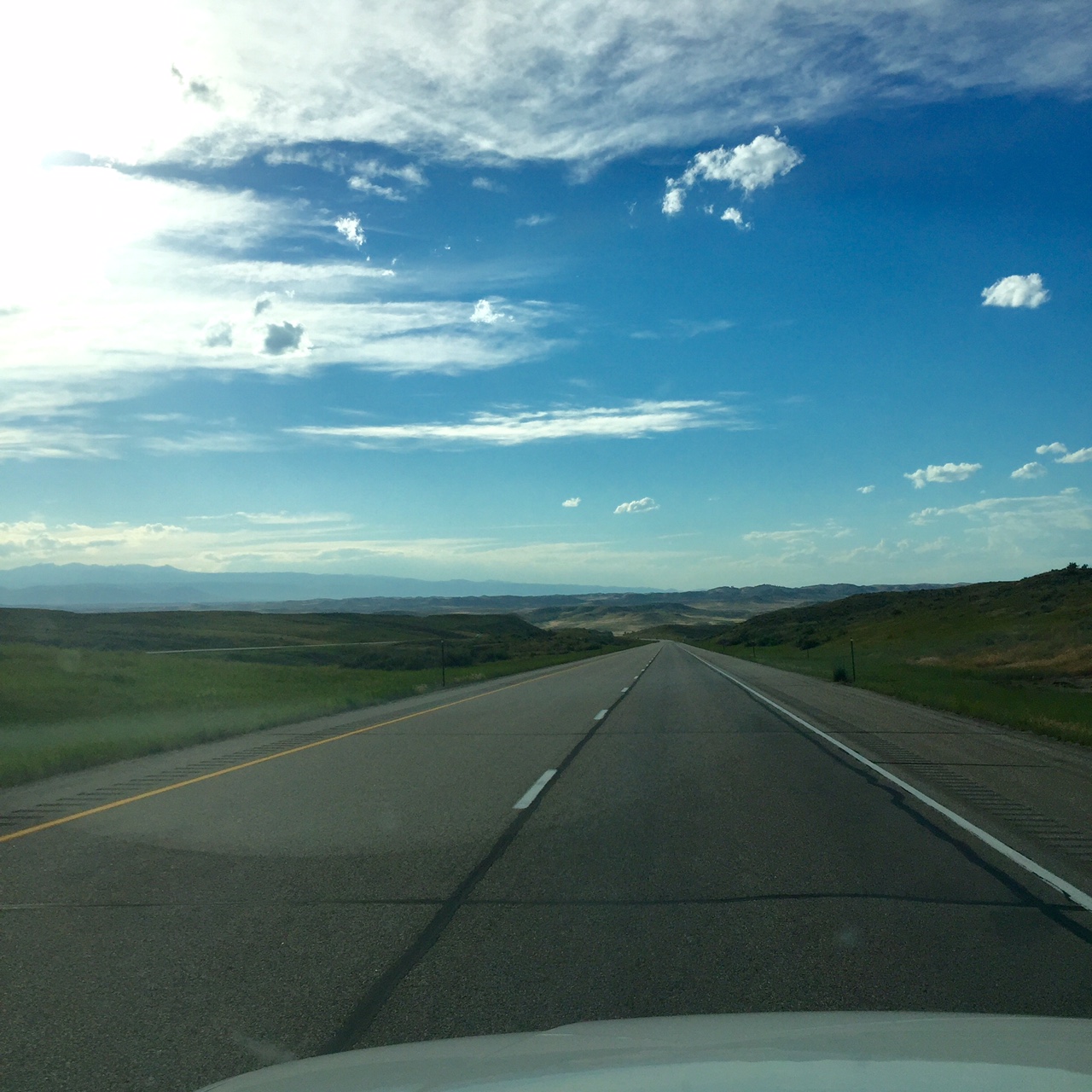 Thankfully, after 569 miles, the Buffalo WY exit is less than a mile down the road.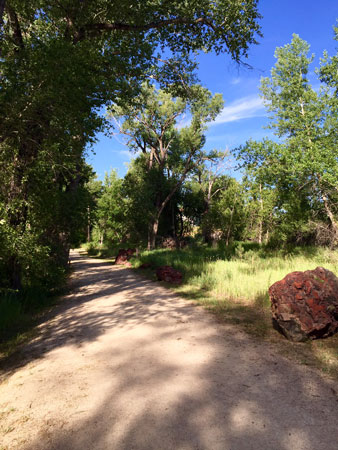 Interestingly, a trail (Clear Creek Trail) from my Super 8 Motel took me on a shortcut of .8 miles to downtown Buffalo WY.
It was uphill to town, and looked like a great place to do some 800m intervals for my workout in the morning.
The unique-looking boulder in the lower right-hand corner is called "scoria rock."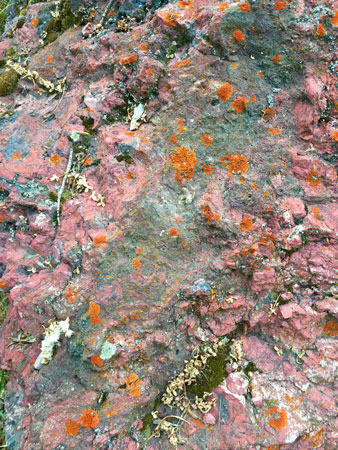 Here is a close-up up that scoria boulder in the above picture of Clear Creek Trail. I had to get the picture now, because I knew I would not have my camera when I was running intervals, tomorrow.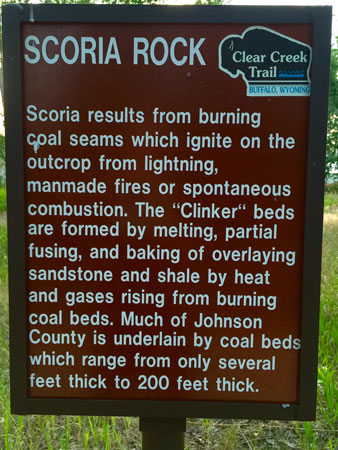 Thankfully, the city of Buffalo WY had the foresight to include an information sign to help me out.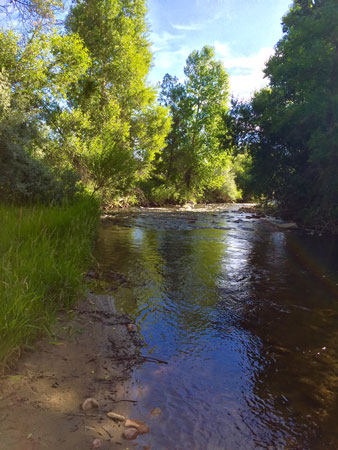 Here is the actual Clear Creek, that runs parallel to the Clear Creek Trail.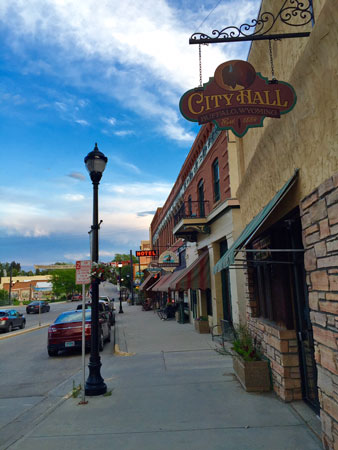 It was the 4th Of July, and not much was happening downtown. I was getting pretty hungry, but most everything was closed.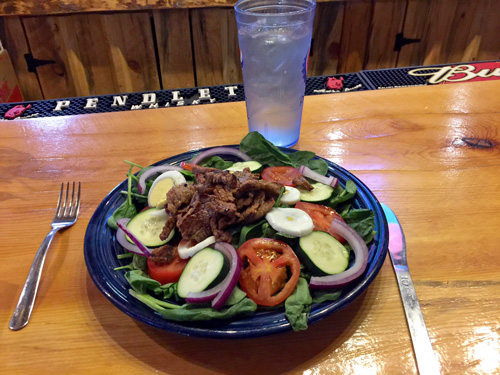 Fortunately, the Clear Creek Cantina was open. It is a Mexican restaurant that served a much-needed large salad, with beef.
Topped with straight virgin olive oil, it was delicious.
Staying Paleo was not as hard as I imagined. (Although I kind of wondered what I would have done if a pizza place was the only thing open for dinner.)
Buffalo WY is a beautiful little (pop. 4600) town. I could feel my spirit being refreshed as I walked both sides of Main Street before taking Clear Creek Trail back to my motel.
Day 5 - My Trip To Bozeman Montana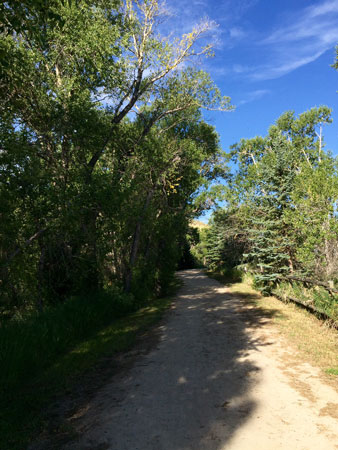 I was up at 5:30am, ready to put in four 800m intervals at a quality speed. I figured that if I could hold under 3:55, going downhill, I was doing well.
I could definitely feel the 4700' elevation even running downhill. The last 150m were a slight-uphill, and I was gasping huge loads of oxygen.
It took me 6:00 to recover on the run uphill, back to the start.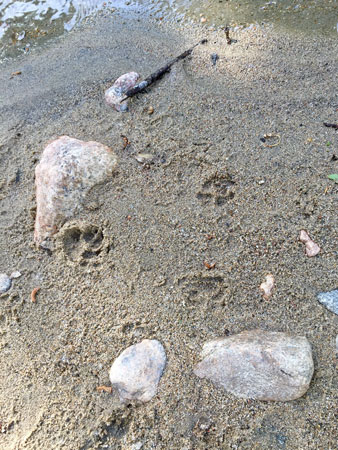 When I finished my last interval, I went down to Clear Creek to splash some cold water on my face. I found these little footprints near the edge.
Since I am not a woodsman, I wondered what left them.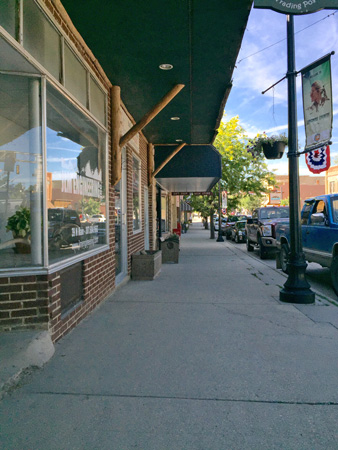 After showering, and getting things packed in my truck. I walked the trail back to downtown.

Buffalo WY is pretty deserted at 7:30am.
I decided to stop at Tom's Main Street Diner for breakfast.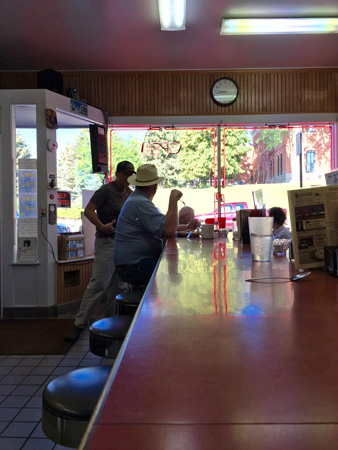 A few ranchers, and a senior couple were the only others in there. The waitress told me the tourists start coming in about 9:00am.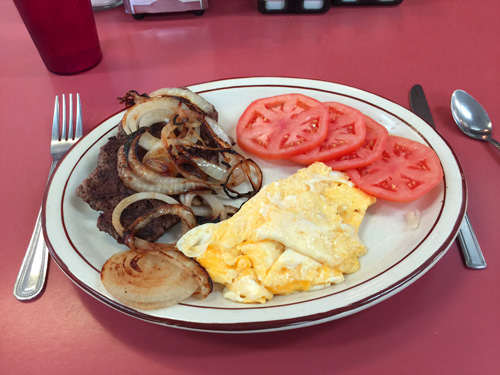 I had a great breakfast of two scrambled eggs, hamburger steak, cooked onions, and sliced tomatoes. I really needed this after those four hard intervals an hour earlier on Clear Creek Trail.
I was all set for a leisurely 105-mile drive to the Little Big Horn Battlefield National Monument, a straight shot on I-90.
It was a clear, cool, and sunny day. This has been a great way to refresh my spirit form the heat and humidity of the summer in St Pete.
Day 5 - A Visit To Little Bighorn Battlefield
National Monument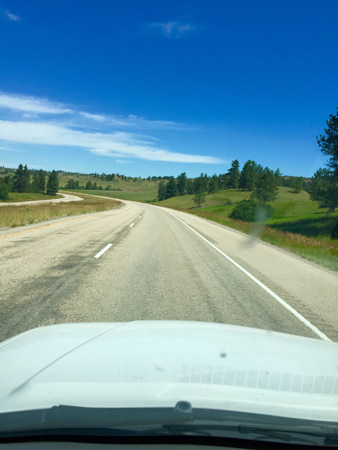 After an hour's travel, I passed through Lodge Grass, MT. I was only 22 miles from Custer's Last Stand.
I have always been interested in the Battle Of Little Big Horn, and planned to spend a couple of hours learning more about it.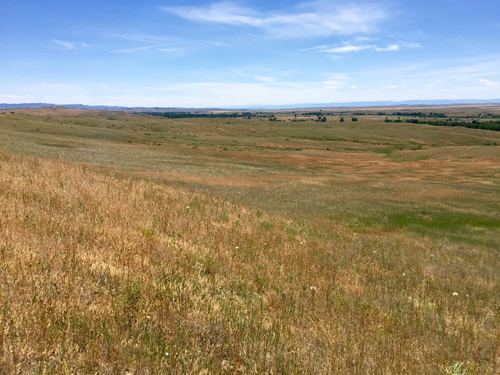 A view of the valley where Custer viewed the Indian village across the Little Big Horn River. Historians are still in doubt if Custer led his troops to the river, before retreating to the higher ground where he made his Last Stand.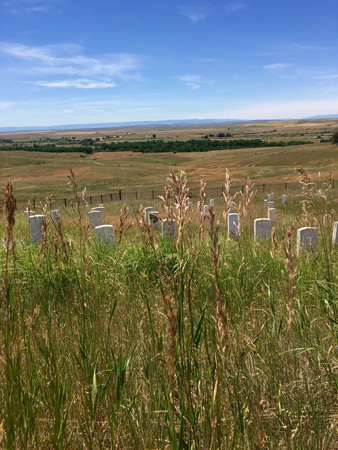 The cemetery on the high ground where Custer made his Last Stand. The headstone in the middle, with the black medallion, is that of Custer.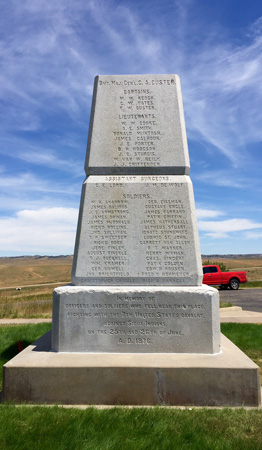 The iconic monument dedicated to the soldiers and officers of the 7th Cavalry who died in the Battle Of Little Big Horn.
This was a somber viewing. 
Trip To Bozeman Montana 
America The Beautiful Park Pass
Actually, I did get my spirit refreshed in another way. When entering Little Big Horn Battlefield National Monument, I found out the entrance fee was $25.
At first I hesitated a bit. The ranger running the booth said I could get a one-year National Park Pass for $80.
While I was considering this, I said as a joke, "Do you give discounts to senior citizens?"
He told me, "Yes, we do. If I can see your driver license to verify you are over 62, I can sell you a lifetime pass for...$10."
I could not believe it. The goodness of God continues to work in my life.
I was getting a little hungry, so I pushed on toward Bozeman. After another 104 miles, I stopped in for lunch at the 307 Grill, in Columbus MT.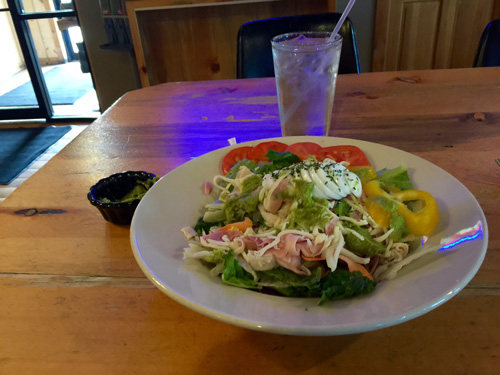 I had a huge salad, with sliced turkey breast. I started ordering guacamole for added fat since restaurants rarely have avocado oil for dressing.

The tasted great. Stop in, if you are passing through Columbus.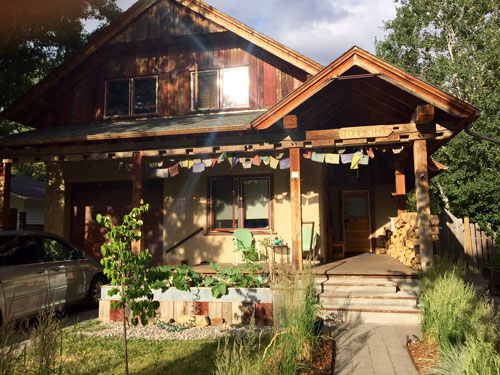 Another 103 miles, and I pulled up in front of the AirBnB house where I would be staying. Actually, I arrived a day early, but Ed, the host said, "No worries, we will work it out. Your room is ready."
I am staying in the upstairs room where the afternoon sun is reflecting off the widow.
My trip to Bozeman Montana was finally complete. I knew my spirit was already refreshed.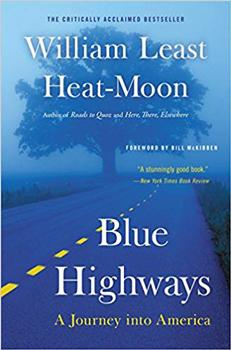 The all-time classic on traveling the backroads of America. Blue Highways is hard to put down. 
Go to Refresh My Spirit home from Trip To Bozeman Montana page
A Peaceful Morning In Downtown Bozeman
A Restorative Hike On Peets Hill
Filed Under:Trip To Bozeman Montana
More Books For Spiritual Growth