Morning On Santa Fe Plaza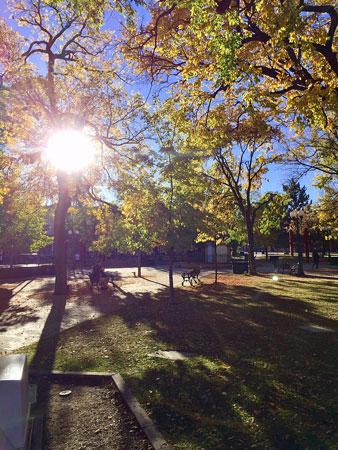 Morning on Santa Fe Plaza is one of the most restorative times you can have. The quietness and beauty of this little iconic town square are uplifting to your spirit.
I try to come here several mornings each week. Right now, it is early fall, October 20th, and the air is a crisp 40˚.

This is a great place to practice mindfulness. There are very few people, and those that are here seem to be of the same reflective frame of mind.
Some are walking dogs, some (way more than I expected) are quietly taking pictures, and some are just here to soak in the morning sun as they relax on the park benches.
Bonnie Treist, from Apopka FL told me, "We have been coming out here in the summer for the past 12 years. It is so nice to get away from the humidity and bugs of central Florida. We come on Mondays, Wednesdays, and Thursdays. Mostly we just walk quietly, and talk about how thankful we are to be in such a beautiful little place."
Morning On Santa Fe Plaza In Pictures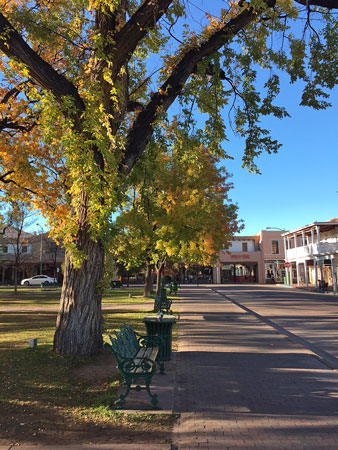 Looking west on Palace Avenue, you can see how serene it is at time of the morning. From sunrise, until about 8:00am, the Plaza is pretty much undisturbed.
Ron Yost, who is visiting from Phoenix AZ, said, "This place is the complete opposite of Phoenix in the summer. We come here to get away from the traffic jams and intense heat. I'm a writer and an artist. I get a lot of ideas during my quiet-time, here. Mornings on Santa Fe Plaza have been very good to me."
People come in a variety of ways. Many of us walk. I stayed about a 1-1/2 miles away, up on the top of Old Taos Highway, but I would walk down, each morning. Others would do the same.
A few biked to The Plaza.
The tranquil beauty of nature is seen all around. The Plaza is exceptionally pretty in the Fall when leaves are turning colors.
Joan Saphiro, who  moved here from Spoke OK, said, "I treasure my time, here. I'm an old lady and I lived a lot of my life on a bare-bones ranch in western Oklahoma. I feel so fortunate that I can live out the rest of my days in such a beautiful place. I love touching these leaves. I haven't had much of this beauty in my life. It is so nice to connect with nature, without a lot of harshness of weather. Mornings on Santa Fe Plaza are the only way to start my day, now."


The fallen leaves are both colorful and soothing as they gently stir in the morning breeze.


Puddles from last night's rain dot the paths in The Plaza. 
Reflections provide a sense of peace. It is relaxing to view these uninterrupted images. Connecting with nature becomes much easier.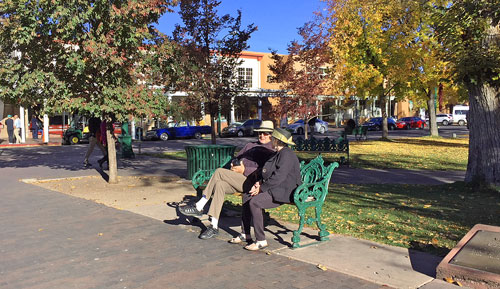 As you might have guessed, most of the visitors spending a morning on Santa Fe Plaza are retired. They are in the 55+ age category. Many just enjoy sitting in the cool morning air, and letting the sun warm them.
John Edison, and his wife Polly are two. Said John, "We moved here from Aurora, IN about 15 years ago when we both retired from the state government. We wanted a place that provided a high quality of life. We first thought of living in Madeira Beach FL, but were put off by the high-humidity. Plus, Polly did not want to deal with cockroaches and mosquitoes.
We spent a summer, here, renting a small apartment, and fell in love with Santa Fe. The slow pace, the natural beauty, the cowboy history, and all the free artistic/cultural events made our decision real easy. We enjoy starting our day with a morning on Santa Fe Plaza. These crisp Fall days are the best."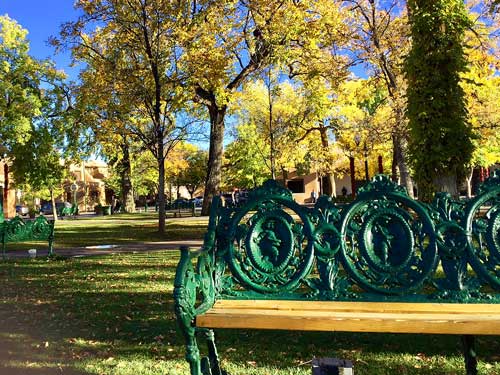 The Plaza offers a great many comfortable benches. They all face different directions. Many face the interior, but others, like the ones the Edisons were sitting on, face out on one of the four streets surrounding the park.
Jeri DeScales, an online entrepreneur, comes to Santa Fe each summer from, Gulfport MS.
"I love this plaza. It has brought me so much peace, and so much prosperity. Starting my morning, here has brought wealth to my spirit, and wealth to my bank account.
I am so thankful for these simple wooden benches. I bet I've sat in each one of them. I do that to get a different perspective on each morning in the park.
These benches have been extremely restorative to my spirit. I create closeness to God and the Universe through my prayer time. I give thanks for the beauty of nature on these peaceful mornings. And, I have created a wonderful life just by writing in my Mindfulness Journal.
Sometimes, my husband will come with me. Usually, though, he is out running at this intense altitude, giving thanks in his own way for the blessings we've received by spending our summers here in northern New Mexico.
Mornings on Santa Fe Plaza have blessed our marriage, blessed our financial position, and blessed our health. 
As a couple, we have developed a much deeper closeness. Following a spiritual path of awareness leads you treat each other with much more care and tenderness. You become much more intentional about uplifting the other person's spirit through your words and actions.
My husband always treated me well, but since we have been reading Marianne Wiiliamson's A Return To Love, and discussing it, he's become even more gentle toward me. You cannot believe how your spirit soars and your energy ignites when you feel totally loved.
My mornings on the plaza are full of gratitude, and asking the Universe how I can be an even more loving person.
Santa Fe Plaza has been extremely important for refreshing my spirit. I love these mornings."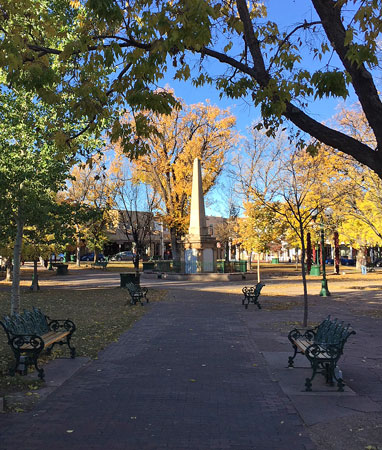 The war monument is a focal point of The Plaza during the day, but does not draw much activity in the early morning. However, once it gets close to 8:00am, there are significant changes in the visitors. 
People start setting up small areas to sell homemade wares. 


Late Morning On Santa Fe Plaza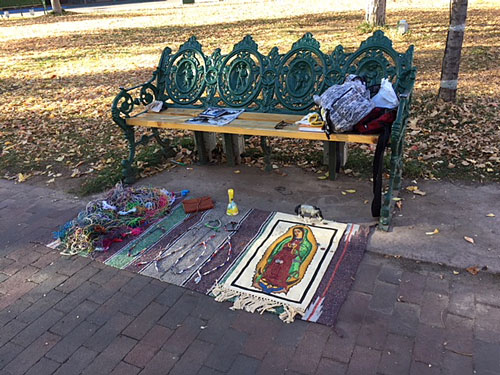 When it got past 8:00am, one guy started setting up to serenade visitors with guitar music. I figured this was my cue to leave, but when I listened to this guy tuning up his instrument, it gave me pause.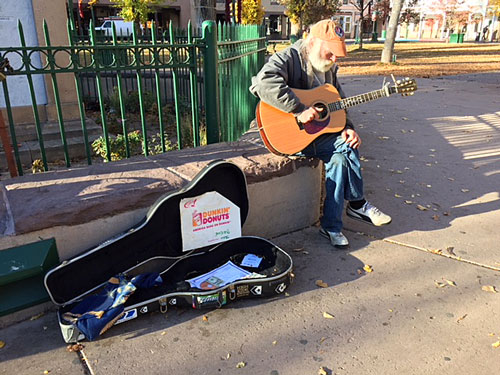 He was good. As a matter of fact, he was better than good. His playing actually had a professional quality to it. 
I stopped by and commented, and asked if I could take his picture for this blog. He laughed and said, "As long as you don't hang it in the Post Office."
While we talked, I was blown away by his expressive skills. This guy talked like a college professor. I could not believe it. His appearance totally belied his background.
Although he was a bit evasive, he told me his name was Mark, and he had started school at California Poly, but ended up getting an advanced degree at MIT.
Say what?
"I spent four years in San Luis Obispo, majoring in both Physics and Literature. During that time, in the summers, students from both the Juilliard School and the San Francisco Music Conservatory would come up to work there. That's where I learned to play guitar. Those guys were masters of their craft. I ate that stuff up.
Then, when I was a grad student at MIT, I became friends with a guy who had attended the McNally Smith College Of Music in Minnesota, and he really enhanced my skills.
Now, I just come down here and play for my own enjoyment, and to bring some pleasant sounds to all who walk by. I play real mellow stuff.
I look like a homeless dude, so people are always dropping dollar bills in my instrument case. I distribute it to the real homeless guys so they can get a hot meal, here, each day.
I thanked Mark for taking the time to talk. It was a great way to end my morning. The circle of Life is alive and well during morning on Santa Fe Plaza.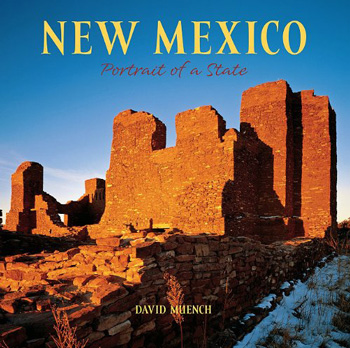 A beautiful book of the New Mexico landscape by world-class photographer, David Muench.
Go to Refresh Your Spirit home from Morning On Santa Fe Plaza
Filed Under: Morning On Santa Fe Plaza

More Books For Spiritual Growth