Manzanita City Park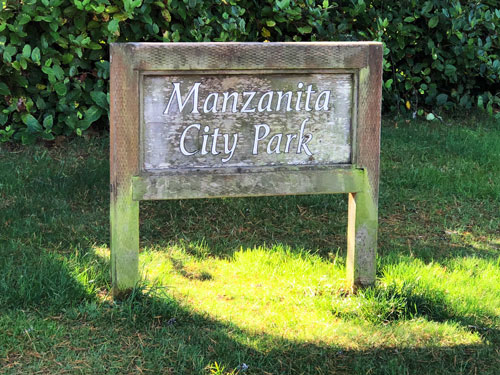 Manzanita, Oregon
Manzanita City Park is a quiet little piece of beauty, nestled just south of the main street through downtown Manzanita Oregon.
This little Oregon Coast park is a hidden reprieve from the larger coastal towns along Highway 101 North. It's perfect to refresh your spirit.
It's easy to find, well-taken care of, and a nice switch from sitting at the beach, down at the end of Pacific St. Actually, I like to sit and read a little, at Manzanita Park, after I've had a morning walk on the beach.
There are several different places you can choose for solitude. I'll show you my favorite near the end.
Although this is a full-fledged city park, with covered picnic areas and playground equipment, I'm usually the only one here between 9:00am and 10:00am on most weekdays.
Most people spend their time at the beach, but the park can get a little busy around 6:00pm in the summer. Young families love to cook out and use the picnic facilities on cool summer evenings.
Abby Roth is a retired teacher, who is now an artist. She purchased a home in Manzanita four years ago. She said, "Manzanita City Park is part of my daily routine. After stretching and lifting weights at FIT Manzanita Gym down on Laneda St, I jog down to the beach. I usually run two miles, sometimes three, on the beach, then head to the park.
I like to cool down physically and mentally. 
I sit in different spots, listen to the birds, feel the gentle breeze on my face, and watch the sunlight slowly filter through the trees. I usually have something to read.
I stay about 20 minutes. The park is peaceful. It's calming. It's refreshing. I head home and I'm ready for a shower, breakfast, and some creative art work."
Manzanita City Park In Pictures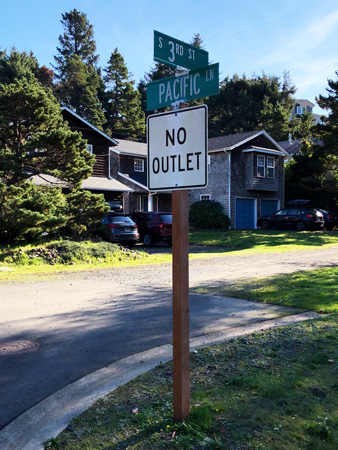 The park is easy to find. At South 3rd St and Laneda (the main road through downtown) there is a small sign pointing south. If you go about a 1/2-mile down, you'll come to the corner of it, where Pacific Lane intersects.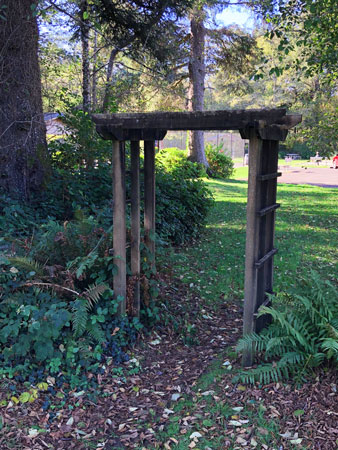 Coming in on the east side, you'll see a trellis entry. Several residents told me they always enter through here. It is like a small blessing to start the day.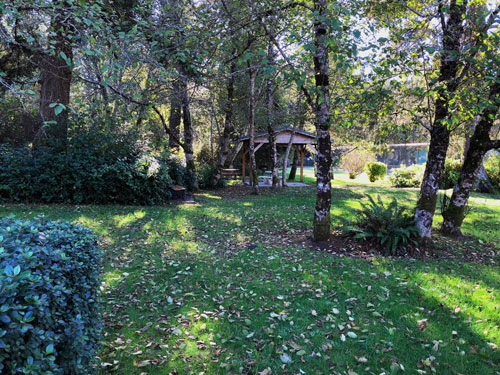 When you come in this way, you will see an open expanse of nice lawn leading to a covered picnic area. Off in the distance, you'll see the basketball court, with a tennis rebounding board to practice ground strokes.
Bill Fry, 65, has been a resident in Manzanita OR for the past 3 years. He said, "I retired from the Post Office three years ago, and moved us here from Bend. Several times a week, I come down here and shoot baskets in the morning. For some reason, I used to dream about that when I was sorting mail.
It is really restorative. I get here about 9:30am, and just dribble around and shoot for about 45 minutes. It is a way to both wake up my body, but also relax.
I'm very thankful to live near such a quiet beach and quiet city park."
You will find some nice solitude in the morning to practice athletic skills. In the evening, and especially on weekends, there are more kids playing.
Les Phillips (66) is a retired surgeon. He said, "Manzanita City Park has been such a vital part of my life. I come down here several mornings per week, and shoot baskets with another retired doctor.
We have some of the most interesting and meaningful conversation on this little court.
It's very peaceful. There are leaves on the ground. There's a bit of a breeze. And there is a lot of quietness.
This is such a great place to refresh my spirit. I get to combine Nature, friendship, and maintaining my athletic skills all in one beautiful area.
I try to be aware and grateful for all of the beauty of this little park.
Originally, I started coming here just to shoot some baskets before breakfast. I've ended up becoming more mindful, if you can believe that."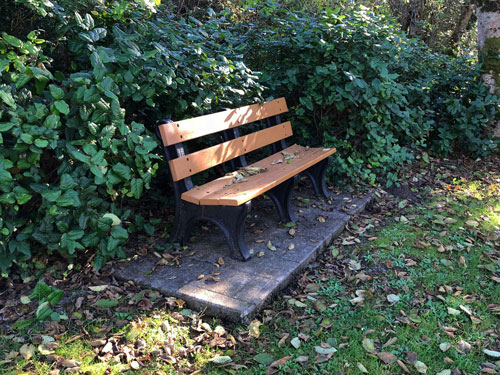 There is a bench tucked away by the trellis entrance. I've sat here many times, but I prefer a more secluded spot on the other side of the park.

Jeanette Jenkins (45) is a writer and online entrepreneur. She said' "I love coming here in the mornings and sitting on one of these secluded benches. I love hearing the birds sing, and the smell of bacon being cooked somewhere out in the neighborhood.
This is such a wonderful place to replenish your soul. The air is cool, clean, and a bit moist. It is wonderful for a woman's skin.
Several times a week I'll bring my journal and get ideas for my next article or poem. Other days, I'll bring my iPad and read from one of my Kindle Books. It's just so peaceful and relaxing.
I do a few Yoga stretches on the grass in front of the bench. Manzanita City Park is just so revitalizing for me."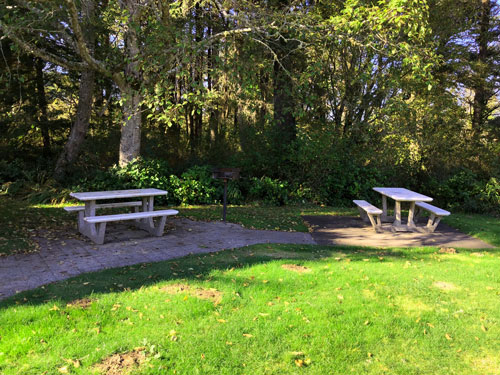 If you continue around the park, you'll come to a couple of more picnic tables. These are great if you bring a laptop to work on stuff. There is no wifi, but you can work on word processing for creating content.
The mornings are extremely quiet. Just remember to bring a sweatshirt because you'll be in the shade.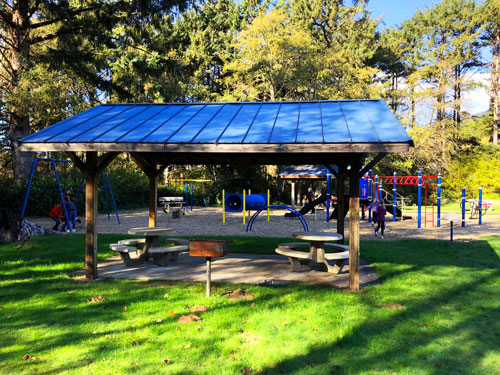 Manzanita City Park has a nice playground. In the summer, kids start showing up between 10:00am - 11:ooam. They'll be there most of the day.
A lot of families come to picnic at dinner in the summer and for lunch on weekends.
Susie Jo Reede (34) is the mother of three boys. She said, "Manzanita Park has been part of our lives since Jeremy, our first born, showed up in our lives.
We were bringing them here before each of them could walk, just because we wanted them out in Nature, experiencing all of the sounds and sunshine.
I have a Masters in Child Development, and I know how vital it is for children to both engage in Nature, and explore movement.
All of the boys learned to walk in the grassy areas. They loved crawling on the soft turf, plus they were picking up a variety of anti-bodies that will serve them their whole lives.
We couldn't be more pleased with living so close in Rockaway Beach. It's only a 20 minute drive, so we are here several time each week.
Now that they are a bit older, we'll also take them down to Barview Jetty Park by Garibaldi. They like it, but it can get pretty crowded, especially on weekends in the summer.
The city park here in Manzanita is perfect for them. They've learned so many skills. They can play on all of the playground structures by themselves, and they can run as fast as they want over on the basketball court.
Also, I've met some really nice Mom's here. WE've become friends and have had reciprocating play dates at our homes.
Manzanita City Park has been a central part of our family's bonding. I love this little place!"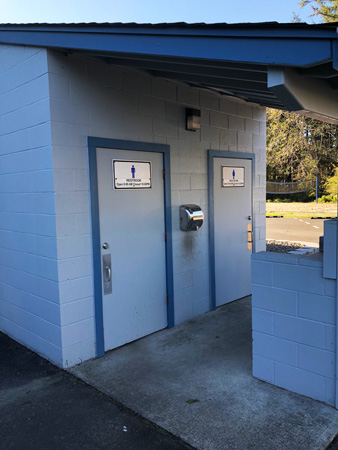 Manzanita City Park has exceptionally clean restrooms. The city puts a lot of effort into maintaining the beauty of this little area.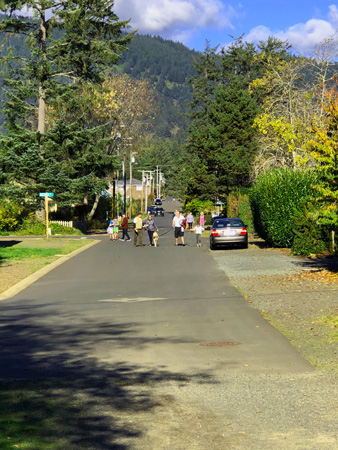 Here is a shot, looking toward town, on South 3rd Street. It's a Saturday afternoon in November. You can see a lot of parents and children enjoy coming to Manzanita Park.
My Spot - Manzanita City Park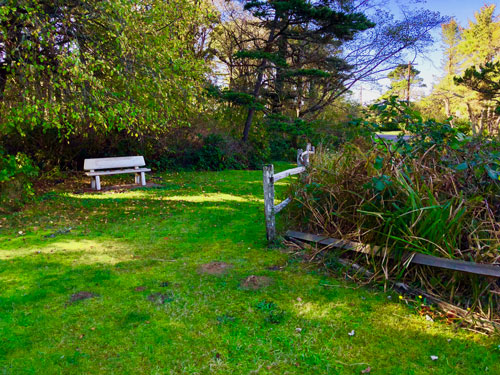 The spot I like the most is about 100 meters west on Pacific Lane. It is secluded, there is a great view, and you feel like you're enclosed in the forest.
I'm not the only guy who knows about this.
My friend, Ellen Hayes, a writer who moved here from Kansas, found it before I did. She usually comes a little later in the morning. Sometimes we pass when walking on Pacific.
Ellen said, "This is one of the most quiet and beautiful spots I've ever been in, in a city park. It's not real popular because most families have young children, and they want to be by the playground.
I trade-off coming here a couple of days each week, instead of going to the beach. It truly gives me a sense of renewal. We all need to refresh our spirits, and Manzanita Park is just about perfect.
The Oregon Coast has a lot of little places to recharge. I'm just thankful this park is a few blocks from my home. 
Sometimes, I bring a book. Sometimes, I bring my journal. Other times, I'll bring some writing materials for letters to friends or grandchildren.
This is such a positive part of my life. Just like on the beach, I can pray and be grateful for having such a lovely life in my older years."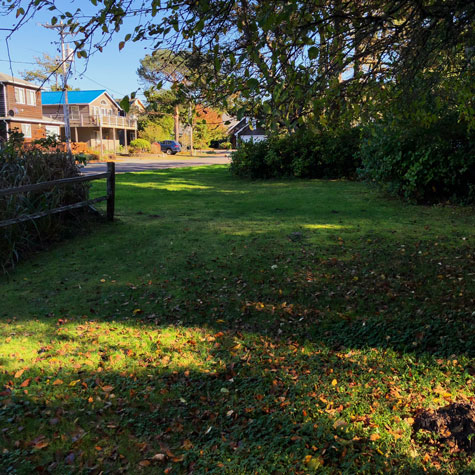 Here's the view from the benches where I usually sit. It's pretty expansive. There is a fenced, planted area, between the benches and Pacific Lane. 
There is not a lot of traffic, especially in the early morning. Sadly, the sun doesn't usually reach very far back in here, so bring a sweatshirt.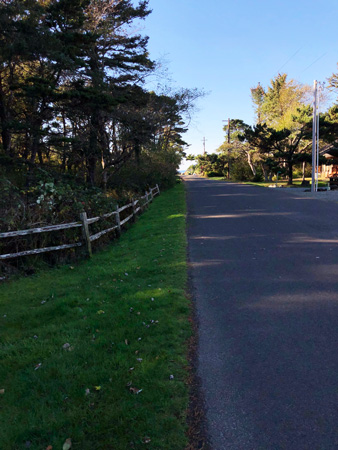 Looking west along Pacific Lane. The beach is down at the end. There is not much traffic on this road. It's a half-mile south from Laneda Ave, which is the main road through downtown Manzanita.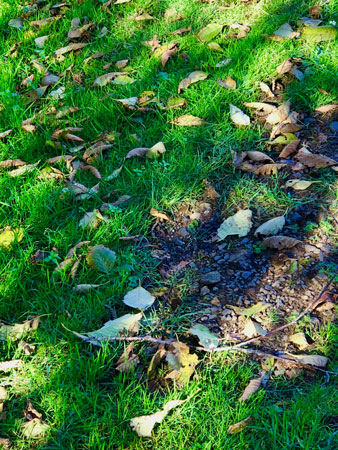 All of us need time to revitalize our spirits. Finding those places in Nature gives us the best possible experience.
If you are traveling on the Oregon Coast, plan on spending a few days in Manzanita. Use AirBnB. You'll definitely enjoy the peacefulness of Manzanita City Park.
Go to Refresh My Spirit home from Manzanita City Park
Rockaway Beach Oregon

Visit Twin Rocks Turnaround Park
Filed Under:Manzanita City Park


More Books For Spiritual Growth