Beach Walking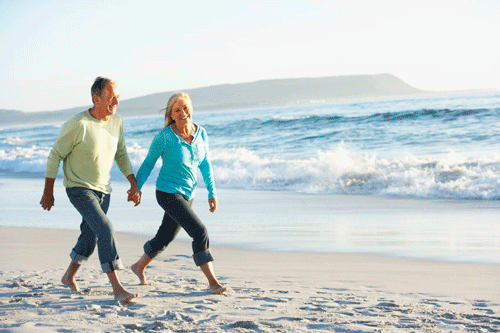 Beach walking.
Walking on the beach is a great way to refresh your spirit. You can increase fitness, increase your connection with nature, engage in quiet problem-solving, and enhance your spiritual mindfulness. The benefits of a beach walk are remarkable and interconnected.
The natural beauty of the seashore provides a pleasing backdrop for pursuing the renewal of your spirit on a variety of levels.
The mind-body connection cannot be denied when you are walking along the surf line and are present for the elegance, artistry, and tactile sensations of sand that is millions of years old.
Betty Holder has been walking Rockaway Beach Oregon for the past 20 years, since she retired as a detective from a town just outside of Chicago.
"Beach walking has changed me," she says. "I have always liked being outdoors. When I was on the police force in Chicago, I walked, jogged, or ran in parks, but of course they were paved. Out here, on the Oregon Coast, I go barefoot along shoreline.
Everyday is different, and everyday I come out here for a variety of restorative activities...but I always come out here barefoot.
Several years ago, I read a book by Clinton Ober called, 'Earthing: The Most Important Health Discovery Ever!' It told me about the disturbing connection between inflammation caused by our lifestyle, and chronic diseases that debilitate and kill us. 
Ober described how we could revitalize our bodies, and refresh our spirits simply by connecting with the earth's surface. Since I live in one of the most beautiful coastal towns imaginable, I figured this would be an easy lifestyle change to go barefoot on my daily beach walks.
What a simple way to strengthen cellular immunity and eliminate pathogens that could cause tumors.
In these past years, since making this one simple change I sleep better, I lost 25 lbs and kept it off, because I eat more cleanly, and I've gotten off medication for Type II diabetes.
Beach walking for me is a combination of fitness programming, discharging toxic ions and thoughts from my being, allowing my subconscious to solve any vexing investment decisions, and mindful prayers of gratitude.
I have recently begun the practice of stacking stones to help me focus on my gratitude.
I am thankful I selected a beach community for my Golden Years."
Beach Walking For Fitness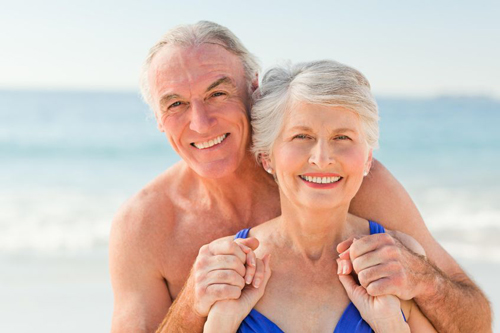 Consistently walking on the beach will maintain and even increase your fitness. 
Now, let me be clear, beach walking will not take you from being overweight to being a contender in your local 5K races. but it will help you lose body fat, strengthen your lower-body musculature, and provide healthy cardio.
Fitness walkers are prevalent on the beach. Many of them walk with partners, or in groups. A lot of those groups move at a real good clip for ages 55+. They are focused and hold themselves accountable for getting in a good workout.
Janice Eaton, a wellness entrepreneur, who walks with a group on Treasure Island FL, said, "My group of four women have been together for seven years, and beach walking has changed our lives. 

We walk every morning at sunrise. We meet at the beginning of the Treasure Island Beach Trail by Gulf Front Park. We warm-up with a pretty leisurely stroll down to the end, then cut across the sand to the shoreline.
On Monday-Wednesday-Friday, we have what we call 'Hammer Time'! We walk at a good pace for 4 minutes, then go hard for 1 minute. It really gets our hearts pumping. We can't talk at all when we have the hammer down!
We go all the way to that rusty fishing platform by John's Pass, then turn around.
On the way back, we change things up. We walk seven minutes, then hit it hard for a minute. 
On Tuesday and Thursdays, we have a recovery day where we walk south down to Blind Pass. No intervals, but we do have certain spots where we will walk backward for 50 steps, and other places where we will shuffle sideways for 50 steps. Real easy. We just want to stay supple and free of injuries."
Joanne Curtis, another member of the Treasure Island foursome, said, "We started this when we were all about 58, now we are 65, but we look and feel much younger.
All of us have lost at least 20 lbs, and our pants sizes are down to 4-5. We've all lost an incredible amount of inches on our waists and hips. Of course, a lot of it is due to making positive changes in our diets. We are all on a Ketogenic diet.
We also start our day with Java Burn Coffee, which promotes safe weight loss. It is so delicious!
Our butts, thighs, and calves are tight like we are back in high school. We are tanned and our skin is the softest it has ever been because of the minerals in the salt spray and the humidity. All of us have thicker hair, now.
We look at pictures back when we first started, and we looked older than we do now. It is all because of being consistent with our beach walking. Unless there is a hurricane, we are out here for 90 minutes, making every day count!"
As you can see, walking on the beach with a focused purpose can enhance your quality of life physically. 
If you decide to beach walk for fitness, always discuss this this first with your physician. Let him know exactly what you plan to do.
Also, be aware of the difference between walking by the shoreline, and walking in the soft beach sand. It's going to be 2-3 times more demanding on your feet and calf muscles up above the high-tide line where the sand is soft.
Start out very short distances if you plan to walk barefoot. Almost all group walkers wear running shoes because they go for extended lengths of time. Many wear Vibrams.
Beach walking is great for strengthening foot muscles, tendons, and ligaments...but it must be done over a period of months. When you first start out, go slower and shorter distances. Strains are no fun to deal with.
Beach Walking Helps You Cognitively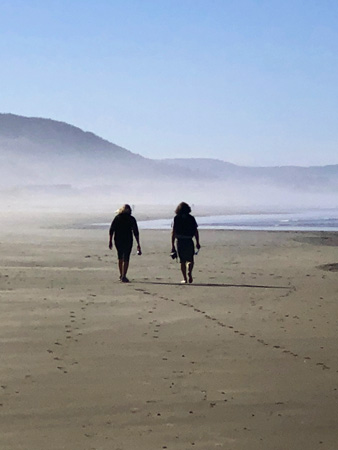 Walking on a quiet and tranquil beach can help you with problem-solving. Whether you walk in solitude, or with a partner, the openness and extended horizons on the beach help problems seem smaller.
Phil Lopat (68) is a retired financial analyst who runs a successful online business, living on Madeira Beach, FL. He said, "My morning walks on the beach are the foundation for me mulling over decisions I have to make. I still buy and sell index funds and ETF's. I still have projects I want to attempt on my house. And, I have several grandchildren that I want to travel to, and visit.
I find being out in Nature, breathing that clean salt air, experiencing the rejuvenation of  "Earthing", and being completely removed from the traffic out on Gulf Blvd helps me see problems in a different light.
My morning walks on the beach have kept me from making some dumb financial blunders...and helped me think up great Christmas gifts for the grand kids. I've been fortunate on both ends of the teeter-totter."
Karen Haines, a semi-retired RN who lives on Indian Rocks Beach FL, said,"I use my morning beach walks as a deterrent to contracting Alzheimer's or dementia. I know there is only anecdotal evidence about walking on the beach and resisting cognitive decline, but I believe anything out in Nature can benefit us. 
All the time I am walking, I'm either giving thanks for being able to live in such a beautiful area like Indian Rocks, or listening to an audio book to optimize my own cognitive growth. 
Speed of processing and general executive brain functions are the first to go as we age. For me, staying focused, being aware, and being grateful are kind of a brain workout."
Beach Walking Enhances Spiritual Renewal
Walking along the shoreline is one of the most spiritual experiences you can have in Nature. Looking out over the vastness of an ocean to a horizon that you can never quite attain lets you know the Universe is much more than our everyday problems.
The beach is quite effective for mental renewal. A gentle breeze and the crashing of waves can be soothing. The color blue has been studied extensively, and is known to help push you into a calming state. Intently focusing on the rolling waves of the ocean can actually change your brain waves and transport you to mild meditation.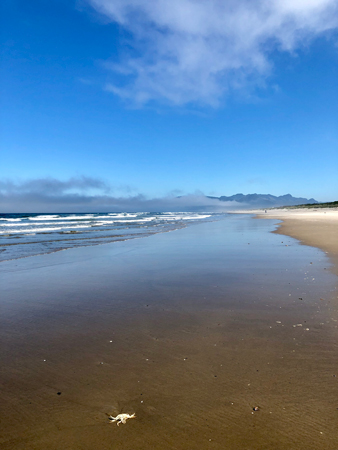 Jim Hawkins, walks on Canon Beach OR. He said, "I'm 60, and retired four years ago, after 30 years in the Postal Service. I have a lot of years ahead of me, so I prioritize both my physical and my mental health.
Three days a week I run and do 100 push-ups down here on the beach. Sometimes I'll drag a kettlebell, down here, and do 50-yard sprint intervals, with kettlebell swings in-between.
The other four days, I devote to being extremely mindful of the beauty I'm experiencing, and how good my relationships have become.
It may sound hokey, but I will even try to focus on the mist I am breathing and the sand between my toes. I walk slowly on my 'meditative days.'
Being ocean-centered on my beach walks has helped me become less reactive. I've even stopped watching CNN and Fox News.
Now, I think about things like, how I made such a great selection in a wife, how I was fortunate enough to move from Mariemont, OH to Canon Beach, and how fortunate I am to have such great health. God has been very good to be, and I want to honor Him in my thoughts, as well as my actions.
Beach walking has increased my spiritual growth."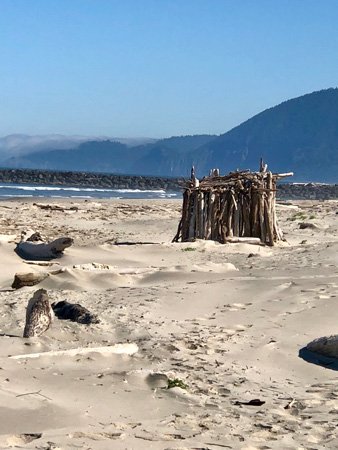 Jennie Backstrom, 63, is a writer with a wellness business, living in my town of Rockaway Beach OR. She is a huge supporter of beach walking to enhance spiritual depth.
She said, "For me, a morning beach walk is complete sensory immersion. I want to be intimately tuned-in to this landscape panorama of peaceful beauty the Universe has blessed us with.
I turn off my cellphone. The only time I will take it out of my pocket is if I see something incredible to photograph.
When you look out at the crashing waves, you realize you cannot control the ocean. You cannot control anything, except your thoughts and your outlook. It forces me to stay present.
I see the beach as a restorative backdrop for my own spiritual renewal and advancement. I visualize cleansing energy, from God's hand, washing over me as I walk along the shoreline. Golden sunlight warms my face, and my spirit.
Beach walking allows me to connect with ocean energy, which is both elusive, as well as timeless. I often wonder of forest dwellers centuries ago, who were lost in the same gratitude and prayer for this beautiful setting."


Beach Walking Can Strengthen Relationships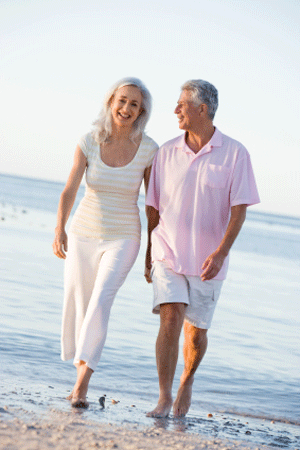 Walking on the beach as a couple is one of the best ways to forge an even stronger bond with your partner. Communication seems much easier when you are surrounded by calming blue colors, gentle breezes carrying healing minerals, and soft sand to transmit a variety of tactile sensations.
Julie Eddleson, a Minnesota retiree who now lives in Brookings OR, said, "When we first retired, I had no idea how my husband and I would spend all of our free time. For 35 years we lived in a little town called Thief River Falls. The winters were brutal, and we could be cooped-up together for weeks at a time.
My husband was in federal law enforcement and I was an elementary school teacher. We loved each other, and were never unkind, but we both enjoyed the outdoors and felt trapped during the winters when we could not walk and talk in a park or along a country road.
When we moved to the Oregon Coast, it was like our spirits were set free. We purchased a place about two blocks from the ocean, and morning beach walks have been a wonderful way to start our day together.
We found ourselves discussing only positive things on our walks along the shoreline. We talk about the beauty, how fortunate we are, little coastal towns we want to visit, and funny things that happen in the community.
When you start the day talking about all the positive things going on in your life, and your relationship, the rest of the day flows so much more nicely."
Go to Home Page from Beach Walking
Revitalize Your Face With Gua Sha Massage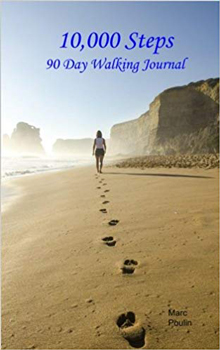 A 90-Day Plan for a new you. Record your beach walking experiences as you become more fit and more insightful.

Filed Under: Beach Walking


More Books For Spiritual Growth