Living In St Petersburg FL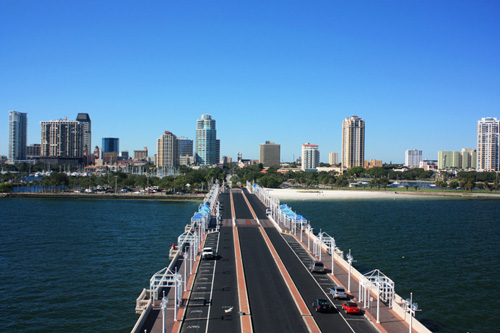 Living in St Petersburg FL during the winter is about as close as you can get to living in Paradise. The Florida snowbird life works well in St Pete.
Laid-back and unhurried, this beautiful peninsula on Tampa Bay, provides the perfect winter hangout for retirees, in-the-know travelers, and those who live a laptop lifestyle.
It has everything from sophisticated downtown charm, to earthy little beach bars on the barrier islands west of town.
Pelicans, dolphins, quiet waterfront parks, sailboats, and days filled with sunshine pretty much define St Petersburg.
Beth Newton (43) is a writer from Missoula MT. She said, "Living in St Pete had been a dream of mine for quite some time. I started out as an elementary teacher. I thoroughly loved my job...but those winters in southwest Montana were just brutal.
I had met two other young teachers at a conference about 5 years ago. They were from here, and we hit it off immediately.
All of us were following a strong path of spirituality. They told me about everything from the Unity church they attended, to their Yoga class, to running on the waterfront park walkway each morning.
In many ways, it sounded much like Missoula in the summer...beautiful quiet parks, a laid-back lifestyle, a focus on Nature, but a lot more warmth and sunshine!
I came here several times during Christmas Breaks. It was so renourishing for my spirit. Everyday, I felt more revitalized. 
I also found my creativity was on a rampage. I bought a journal, online, and it couldn't contain me. I was continually writing about what was going on inside my heart.
In the span of 12 days, I wrote four magazine articles (I had NEVER even thought of that before!) and all were accepted. My spirit was on fire. Not only was I in a beautiful location, I also made $2500 on my vacation. To a grade-school teacher, that was like a million.
When I returned to Missoula, I continued to write about all of the images that cascaded through my mind about living in St Petersburg. Everything sold! By Spring Break, I had collected another $5000 in paychecks from magazines, and three of them were asking for more submissions.
I resigned from my school district, sold most of my stuff, and headed for St Pete at the end of our beautiful Montana summer. I got here at the end of September.
I rent an AirBnB place in downtown St Pete. I walk, run, or bike along Tampa Bay each morning. I make prayer time at Gizella Kopsick Park. I attend a meet-up Tai Chi class at North Straub Park. I write everyday.
St Petersburg has been such a blessing in my life. I have so much happiness in this gentle flow of life.
My spirit is continually refreshed."
I love the warm winter days, when I can sit with my laptop at a picnic table on Pass-A-Grille Beach, or outside at a small breakfast cafe along Central Avenue.
There are no honking horns, no jackhammers shattering the quiet of morning, and no mobs of intense Type-A hedge fund brokers shoving their way out of a subway catacomb.
Mostly, it is just me, clean salt air...and a few seagulls looking for a piece of toast crust. 
I am thankful, each day, for the opportunity God has given me to spend the winter here. 
Living in St Petersburg FL is one of the most restorative, and revitalizing places for your spirit that you will find.
Living In St Petersburg FL
St Petersburg is rich in history, relaxing venues, and scenic adventures. The artistry around the city is both subtle, and telling.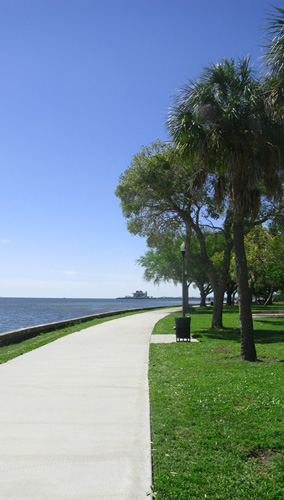 The waterfront park extends about 23 blocks along Old Tampa Bay. You will see a variety of runners, walkers, rollerbladers, and couples pushing strollers. 
The park areas are beautiful and well-maintained by the city.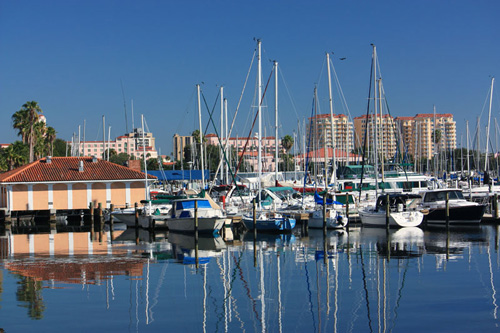 The waterfront park system starts at Demens Landing in downtown St Pete, just north of Albert Whitted Airport. It provides a picturesque view of the south yacht basin.
North Straub Park is truly relaxing. Due to its proximity to the St Pete Museum Of Fine Arts, you will see artists, with easels, painting away the cool afternoons.   
Jon Edwards, who lives in Sun Valley ID, during the summers, said, "St Petersburg FL has to be one of the peaceful places on the planet. Everyday I am thankful I get to spend my winters in such a beautiful area. 
I start each morning by running right down the middle of Bayshore Drive (downtown St Pete) before sunrise. There is absolutely no traffic. I bet I wave to 15 other runners and walkers in my 5K loop. 
It is so restorative to breathe such clean air coming off Tampa Bay.
My wife and I cook breakfast on our flat grill on the back patio after I shower. From there, we will either go down to North Straub Park for her to paint and me to read, or head over to Treasure Island Beach for a few hours.
If we want to walk, we'll go to North Shore or Spa Beach down here on Tampa Bay.
Wherever we go that day, we always give thanks to the Universe for guiding us to such a life-fulfilling place to refresh our spirits.
By coming to St Petersburg, we've seen a huge increase in our physical health, our attitude toward getting older, and more closeness in our marriage.
Together we started a little website about our life here, and in Sun Valley. It's nothing spectacular, just our thoughts about following a spiritual path, being 50+, and connecting with Nature.
Believe it or not, it now makes us about $125 per day. It took about a year and a half to get it off the ground in the search engines, but now we have an extra $4000 dollars each month to spend on things like cruises, and nice dinners on Beach Drive.
God has been so good to us. This is a dream come true. We are so grateful to be living in St Petersburg."
Looking out on Tampa Bay from Gizella Kopsick Palm Aboretum. You cannot beat the quiet beauty of this little-used city park.
Purchase a paperback at the iconic Haslam's Book Store, and read the afternoon away on a February day in the sunshine.


Luxury condos, The Vinoy Place, stand like sentinels opposite the winding waterfront park walkway.
The waterfront park walk ends down by Coffee Pot Basin in the historic "Old Northeast" part of town. 
During the winter months, this is a great place to take pictures of the sunrise over Tampa Bay.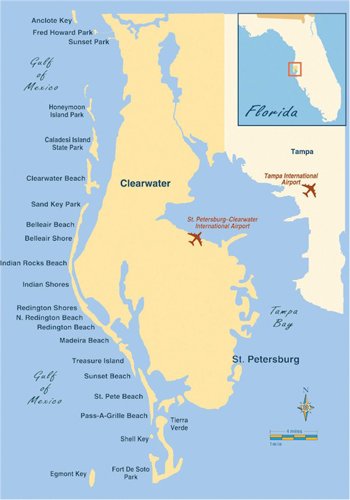 Another thing that makes living in St Petersburg FL so nice is the closeness of the barrier islands that flank the Gulf Of Mexico, to the west.
You can take a picture of the sunrise over on Tampa Bay, then take a leisurely drive down Central Avenue to Treasure Island Beach, and catch a colorful sunset.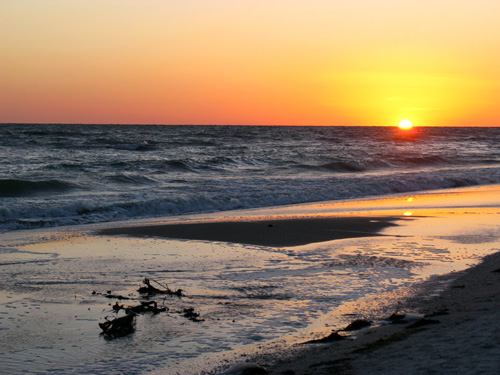 As you can see from above, the sun always sets far to the north during the late winter/early spring. You do not have to be real competent to take a great photo. 
I continue to amaze my friends back in Phoenix, all the time.
Living In St Petersburg FL
I can think of no better place to spend the winter months. The barrier islands, west of town, offer cool, sunny, relaxing days.
You can run or walk on the beach for fitness, shower-off at one of the well-maintained public restrooms, then doze after reading a bit in a used paperback.
Living in St Petersburg FL is a great way to rejuvenate and refresh your spirit.
Go to Refresh My Spirit home page from Living In St Petersburg FL
Filed Under: Living In St Petersburg FL
More Books For Spiritual Growth