Treasure Island Beach Trail

A Peaceful Beachtrail On
Treasure Island FL

Treasure Island Beach Trail is a peaceful, paved, pathway running from Gulf Front Park at 104th Avenue to the Marriot Hotel at 119th Avenue in Treasure Island FL.
This quiet, double-wide walkway of smooth concrete runs parallel to beautiful Treasure Island Beach for .85 miles.
One of the great things about living on the Gulf Coast, near St Petersburg FL,  during the cooler months (October - April) is that you can enjoy quiet walks, and meditative stops along picturesque places like this beach trail.
For me, the best time is early morning, just as the sun is coming up. On the days I do not run along the shoreline, I recover by walking and expressing gratitude for this beautiful area.
During the early morning, there is very light foot-traffic. I rarely see more than three or four other people out here prior to 7:30am.
It gives me about an hour of reflective, and introspective time alone, with just God and nature. You will be amazed at how much easier prayer time flows in a quiet setting, like this.
Gail Hendricks, an online entrepreneur from Owls Head, ME, said, "The Treasure Island Beachtrail has been a source of soothing for me. It is such a beautiful walk. I usually get here when it is just getting light.
I love walking along the Gulf, but I never could learn to read the tides tables correctly. It can be a real struggle in the soft sand at high tide. When its a chore to navigate a path, it takes your focus away from expressing gratitude for such a beautiful location.
The beach trail is quiet, wide, and and the breeze from the south always feels so nice. This is the prefect place to uplift my spirit as I start the day.
I have had so many great ideas for my blog topics while I am walking in gratitude. The Universe has blessed me with wonderful health, wonderful friends, and ideas for tens of thousands of dollars on these morning walks."
Treasure Island Beach Trail In Pictures


Treasure Island is directly west of downtown St Petersburg. The easiest way to get there is to take Central Avenue, which will turn into 107th Avenue, once you cross the Treasure Island Bridge.
The beachtrail begins (on the south end) at Gulf Front Park. When you come to the light at 107th Ave and Gulf Blvd, just turn left and head south for a few hundred yards. You will see this sign, and the parking lot on your right.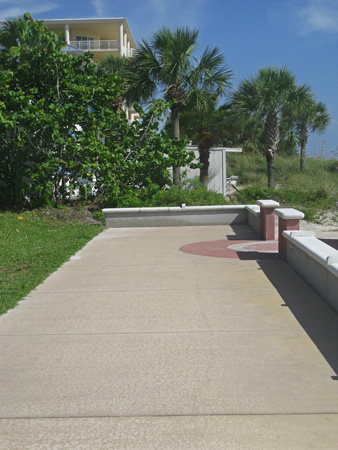 The start of the beachwalk, begins here. Almost non-descript, it holds an amazing amount of soul enhancing prosperity.
Jessica Reynolds, a writer from beautiful Charleston RI, has been coming to the St Petersburg area for 20 winters. She purchased a place on Treasure Island three years ago.
"The beach is such a spiritual experience for me. I feel completely out of sorts if I do not walk the beachtrail each morning.
Sunrise...Nature is making us aware of her life-sustaining energy...I need this prayer time to recount all of the things I am grateful for. 
The beach trail is just lovely. Hardly anyone is out here, and those that are, are here to source the revitalizing energy of this beautiful walk.
Sometimes, I will bring my mindfulness journal. There are so many times I start writing in it, and it leads me to creating another new magazine article or even a Kindle Book.
The Treasure Island Beach Trail is integrated into my soul. I tap into its restorative powers every morning."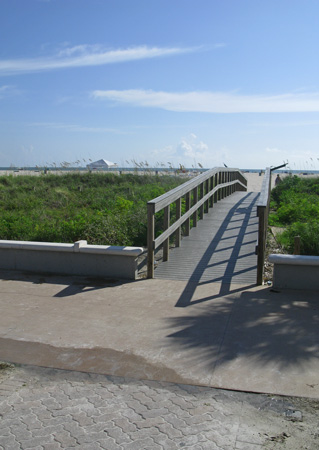 There is a sand dune walkover about a 100 yards north of the start, if you would feel more connected walking along the Gulf.
Treasure Island Beach has been renourished...meaning the sand was pumped in from the bottom of the Gulf and bulldozed level. Consequently, the trillions of broken shells can be a bit painful to the uninitiated.
The shoreline is about 250 yards from the beachtrail. Treasure Island is the widest beach on the Gulf Coast.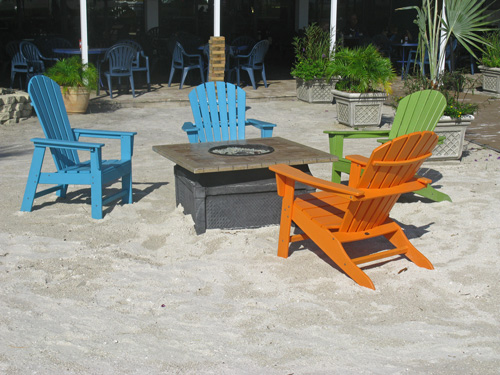 Along the way, you will see some colorful sights...like these empty chairs at the Bilmar Resort a few hundred meters into your walk.
You will also pass these lazy hammocks swaying easily in the soft morning breeze off the Gulf.
Judd Herzog is a photographer from Featherville ID. He leaves the Trinity Mountains in early October and stays here on the barrier islands.
"I follow a energizing spiritual path. It's led me to a wonderful life as a photographer, one that has been prosperous for my wife and I.
We've been coming here for a few years now. It's just too brutally cold in the Trinity Mountains during the winter. We stay at the same AirBnB place. They love us because we rent it for 5-1/2 months.
We walk the Treasure Island Beach Trail almost every morning. It is so refreshing. It has really been wonderful for our marriage. We can hold hands, stop and pray together, discuss all the things we are thankful for, and see God's perfect beauty in all of the lush beach landscape.
It's an incredible way to start the day. We spend about 90 minutes, and rarely see more than six or seven people the whole time.
We have closeness, a bond with the Universe, and a peaceful way to create a grateful mindset for the rest of the day."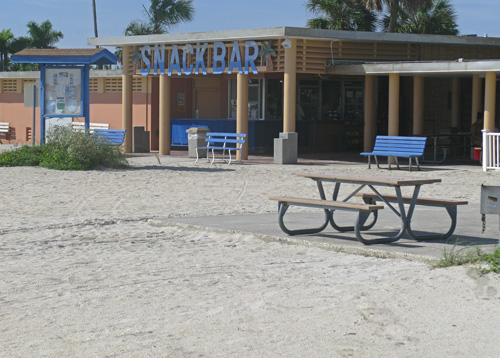 Although normally filled with people in the afternoon, the Snack Bar at Municipal Beach (11260 Gulf Blvd) is quietly deserted in the early morning hours.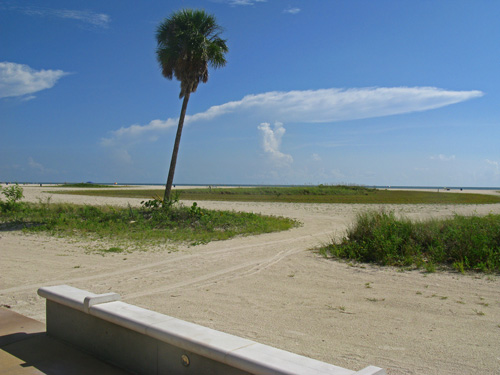 The farther north you walk, the less congested you will find this pleasant beach walkway. The intense quiet and clean salt air can be extremely restorative to your spirit.
Lois Hensley is another writer/photographer. She makes her summer home in the storied town of Wallace ID.
"I could talk about the Treasure Island Beach Trail all day, " she laughs.
"It has been such a creative enrichment for me. I leave one beautiful place, hop on a plane, and the next morning I am walking in the peaceful sunrise of a scenic beach.
I cannot tell you how prosperous this graceful beach walk has made me. I am so grateful because it stokes my creative energy like steroids. I usually fill two notebooks with ideas, sentence fragments, and leads for magazine articles.
Last year, I came here after a fruitful summer of having 24 articles accepted. I also sold six great photographs. I made over $75,000 for six months of doing something I absolutely love, all from ideas generated during my Gratitude Walks on this little beach trail.
I already have requests for sixteen articles that will pretty much write themselves.
I feel so fortunate to have discovered the beachtrail. It is soothing. It is healing. It is tremendously restorative for my spirit. I feel so alive when I am out in this cool air, warm sunshine on my face, and this beautiful tropical scenery.
I am so thankful for all the goodness God and the Universe have blessed me with. I have a rich life experience that continues to amaze me each coming year.
The Treasure Island Beach Trail has been one of the most important blessings in my life."
Looking south along the trail with no one else in sight. Another peaceful morning on Florida's beautiful Gulf Coast.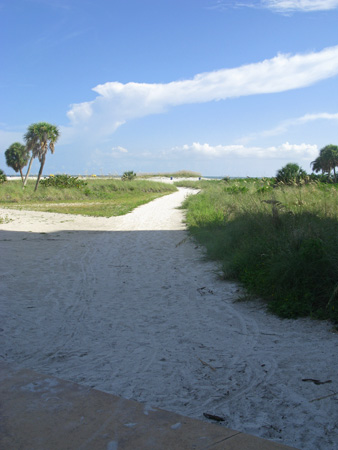 The northern most end of the beachtrail ends at the Marriot Hotel, at about 119th Avenue. This well-worn path will take you right down to the ocean.
Treasure Island Beach Trail

To me, this beachwalk is one of the most peaceful and scenic places on the barrier islands.
As the morning warms up, you will see more runners, retired couples, new mothers with strollers, and excited children...but that should not take away from your experience.
The hours before sunset also see an increase in walkers and bicyclists. However, you will find people smiling easily and greeting you warmly.
The Treasure Island Beach Trail is a wonderful place to refresh your spirit.
Go to Refresh Your Spirit home from Treasure Island Beach Trail page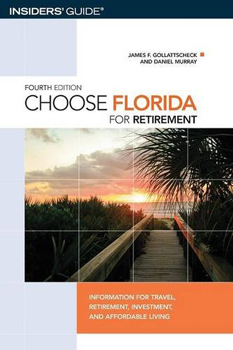 Filed Under:Treasure Island Beach Trail





More Books For Spiritual Growth