Breakfast In Downtown St Pete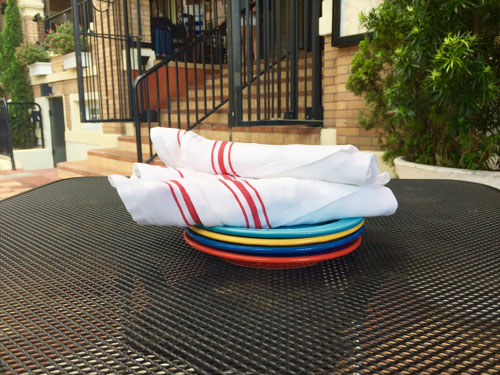 Downtown St Petersburg FL
Breakfast in downtown St Pete is a leisurely start to a Florida snowbird's day. A Central Avenue morning in St Petersburg FL offers quiet and uniqueness. An ideal setting to refresh your spirit.
I like to get downtown early, just before 8:00am, when my favorite place, The Genaro Cafe opens.
Located at 1047 Central Avenue North, St. Petersburg, FL, it is the take-off point for a nice stroll through downtown, after breakfast.
This is the perfect way to relax and be reflective when you are living the snowbird lifestyle.
(Just so you know, during this review, I will call Genaro's a variety of names, because the locals refer to it as: Genaro Cafe...Genaro Coffee House...Genaro Cafe & Coffee...or Genaro Coffee Company.)

I always come down here on a day I take off from running or working out at CrossFit.
I like to have one day when I am completely unhurried. I want to drink in the cool mornings, and the coming sunshine.
There are no horns honking or people hurrying along Central at this time of the morning.
St Petersburg is the perfect city for enjoying the winter as a Florida snowbird.


*****


Teri Lynn Jakes, 24, a writer from New Haven CT said, "I love downtown St Pete. For the past two years, since I graduated from Trinity College, back home, I have come to St Petersburg.
My grandmother retired here about 50 years ago, and I used to visit her in the summers.
She took me over to the Treasure Island about four times a week. She also took me out to breakfast here in the downtown St Pete area every Thursday morning.
When I was a little girl, that was such a thrill.
After breakfast, we would go to one of the parks, put a sheet under a tree and she'd read a bit to me.
She also had me keep a journal of how much fun we had together. I think that's what made me so interested in becoming a writer.
Now, I travel all over the United States with my laptop, and make a nice living with my words and photographs. I am constantly renewing my spirit.

It all started here with breakfast in downtown St Pete."

Breakfast In Downtown St Pete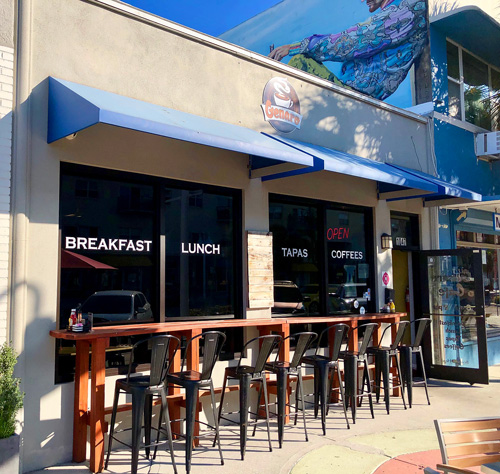 Genaro Coffee Shop is a hidden gem, here in St Pete. A lot of senior locals start coming in at 7:45am...and they continue all the way to noon.
Curiously, when you Google it, several negative reviews come up. I do not understand that at all. I always order a veggie omelet, with bacon (gotta stay Paleo) and I have never been disappointed. I cannot wait to dig in when it is brought out to me.
The staff is friendly, courteous, and work hard. The place is clean (I always eat outdoors on the sidewalk.) and the breakfast is inexpensive. Who can complain about any of that???
Breakfast is served all day, and you can connect to free wifi.

Breakfast In Downtown St Pete in Pictures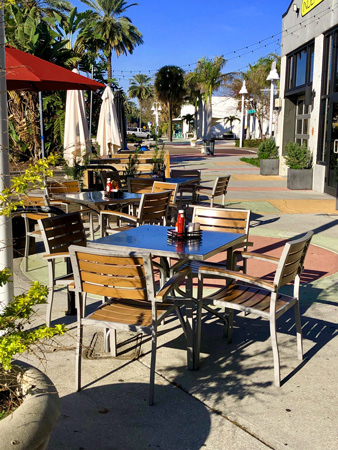 Outdoor tables at the Genaro Cafe. Cool, sunny, and quiet at 7:30am. Located between 10th Street North and 11th Street North on Central Avenue, this is a popular, but uncrowded breakfast venue for Florida snowbirds.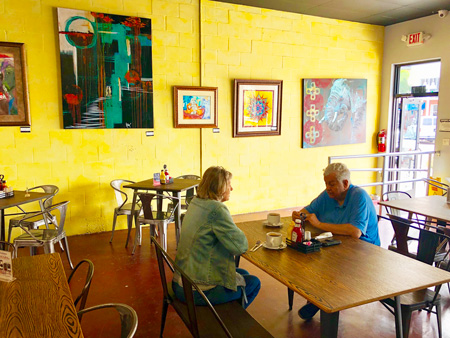 Genaro Coffee Company has a beautiful dining area inside.Many people like to eat in there, especially after about 10:00am.
Fred and Sharilyn Hubble, are a retired couple from Aurora IN.
Sharilyn said, "We have been coming in here every Monday and Friday for the past couple of years. 
We think it is a wonderful way to start and end the regular week. It's gives us a sense of renewal. St Petersburg is such a pretty town, and the pace is gentle.
It is so quiet, here, even though we come after 9:30am. We can easily find a table a talk about our plans for the day. 
We are both over 70, and we want a new lease on life. Genaro Cafe has provided us a nice place to eat while we practice mindfulness. 
Breakfast in downtown St Pete can really be a revitalizing experience if you have a good plan in place.
When you are living a snowbird lifestyle in Florida, eating at a quiet place helps you connect spiritually to your priorities."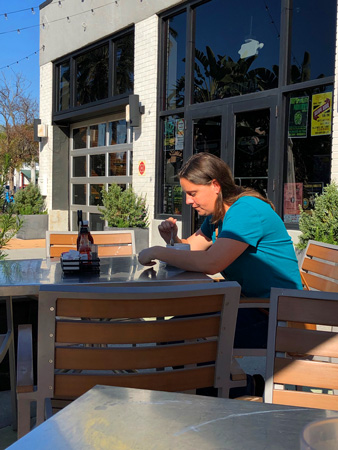 You will see a good number of single, creative types, at Genaro's. Writers, poets, even renegade video editors like having breakfast in downtown St Pete.
Genaro Coffee Company offers a quiet,beautiful setting with great food.
The bustle of downtown doesn't really start until about 10:30am in the morning. You can get a lot of reading, or writing rough drafts in 2-1/2 hours.
Gwen Everest, 31, from Calgary - Alberta, Canada, is another young creative who lives the snowbird life.
She said, "I started out as a writer, but because I wanted to share so much of my work as personally as possible, I began morphing into a videographer.
Now, I travel around in a van, and create mini travel highlights. I write on Instagram.
I run and workout in beautiful parks. My spirit is refreshed continually.
Being a snowbird here is Str Petersburg FL is about as good as it gets. There is beauty all around. I love walking along the Waterfront Park and looking at the sailboats. They are so calming.
I also like sitting in Vinoy Park and just looking out into Tampa Bay. I get a lot of ideas when my spirit is getting renewed. I even get ideas from the friendly people who pass by me and stop for a short chat.
Somedays, I will drive over to Treasure Island and walk on the BeachTrail. It is a very pretty walk. I carry my iPad so that I can sketch out ideas for new videos, or articles.
It all starts here at Genaro's, though.Breakfast in downtown St Pete has a magical quality to refresh your spirit.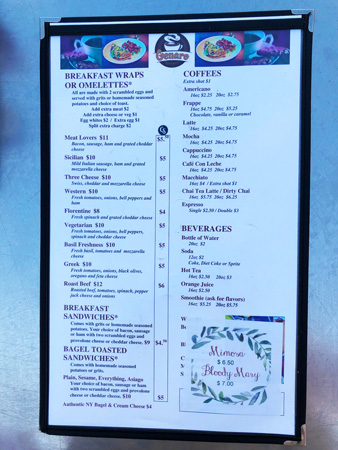 The Genaro Cafe menu is simple and reasonable. My breakfast was under $12...and that included complete silence during the entire meal.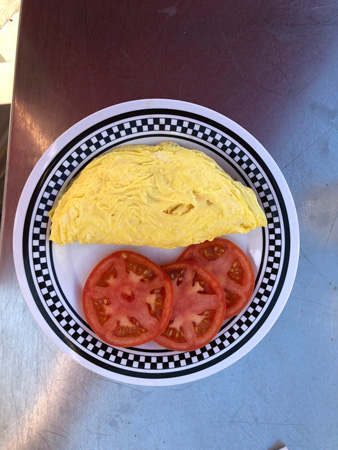 I normally get the Veggie Omelet with bacon. It always looks too pretty to eat. I wish the ones I make at home at looked like that.

I always substitute sliced tomatoes for bread/toast. Checkout the size of those slices! You do not get cheated at the Genaro Coffee Cafe.
Jo Scaff is a snowbird from Bloomington IN, she said, "Eating a Paleo diet is critically important to me. I like that I can come here to Genaro's Coffee Shop and order eggs, bacon, and substitute fresh vegetables for the wheat products.
You just cannot beat eating healthy food in a beautiful outdoor setting, like this, in downtown St Pete.
Sometimes, I bring my headphones and listen to Marianne Williamson, if I am alone here. It starts my day off right.
Otherwise, if there are others out here, I will chat with them, if they are open to it. I have met other writers, and they have helped me develop new strategies for original articles.
Breakfast in downtown St Pete is the highlight of my special mornings. It is easy to refresh your spirit when you are experiencing such positive moments."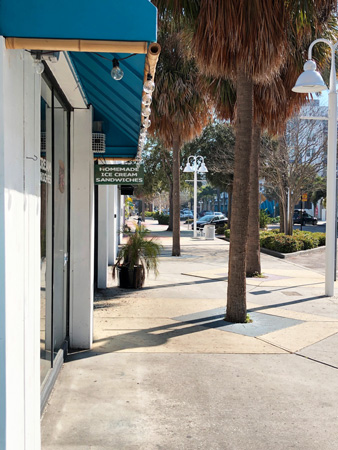 After breakfast, I enjoy taking a walk directly east on Central, toward the waterfront where the Municipal Marina is located. Please keep in mind, it'll take about 20 minutes to get there.

There is always a gentle breeze coming off Old Tampa Bay. Plus, St Pete has a beautiful waterfront park system that extends north, 23 blocks, to Coffee Pot Basin in the historic Old Northeast section of town.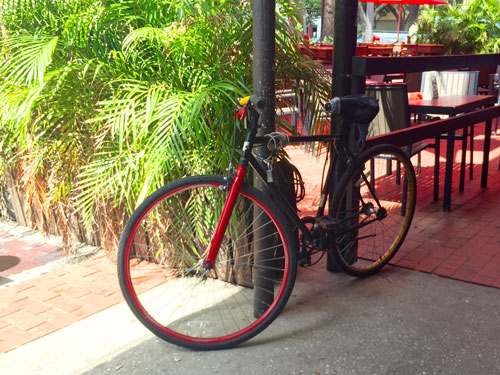 There are not a lot of cars for people who eat breakfast in downtown St Pete. Most folks walk, and a few ride bikes.
It is all good.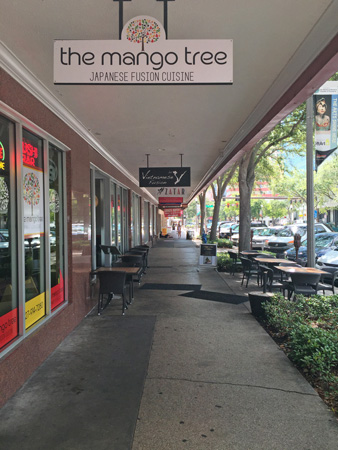 Starting at 6th Street North, Central Avenue is a magnet for unique and original shops. The walkways are comfortable and uncrowded in the morning.
Just keep walking east, toward Beach Drive, and you will make it to the yacht basin.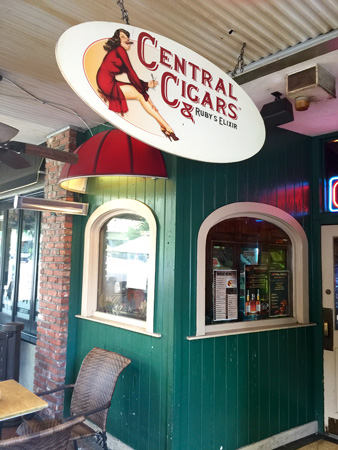 You will pass several bars and cigar shops. This one offers unique and well-made stogies.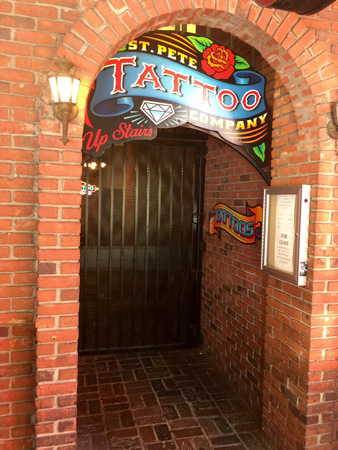 Central Avenue has a variety of tattoo parlors. This one looks just like something out of an iconic 1940's movie...you even have to go upstairs.

Steve and MariLyn Myers are Florida snowbirds from Akron OH. They love spending their winters in St Petersburg.
MariLyn siad, "During our winter season, we make it a point to eat breakfast in downtown St Pete twice a week. We get to Genaro's when it opens, have a leisurely breakfast, then stroll down toward the waterfront.
All of these little unique shops are charming. I'm not really into tattoo's, but I love the character of these little places.
We'll spend several hours down here. We'll get to the yacht basin and turn north. I love looking at all of the sailboats rocking in the calm, morning waters."
Steve joined in, and said, "These walks in the downtown area are refreshing. On at least three mornings, we drive out to Fred Held Park, in South Pasadena, and do some yoga, and hit the workout equipment. I'll do some sprints on the grass, too.
Going to breakfast at Genaro's, then taking these walks are good recovery. We get to talk, the whole sidewalk is ours, and we end up in the most beautiful part of downtown St Pete."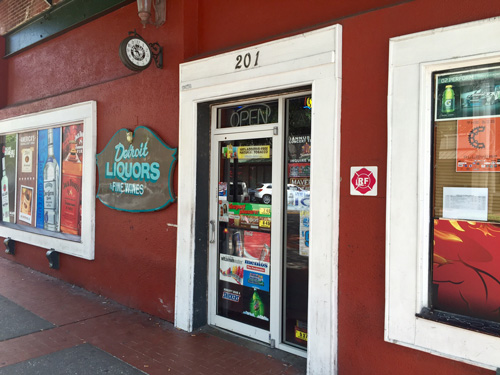 The colorful Detroit Liquors means you are getting close to the waterfront.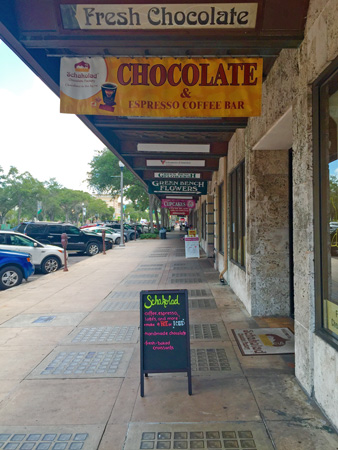 Looking back west, toward where I ate breakfast. There is even a cupcake shop a few doors up. Central Avenue in downtown St Pete is full of unique shops to enhance your spiritual experience.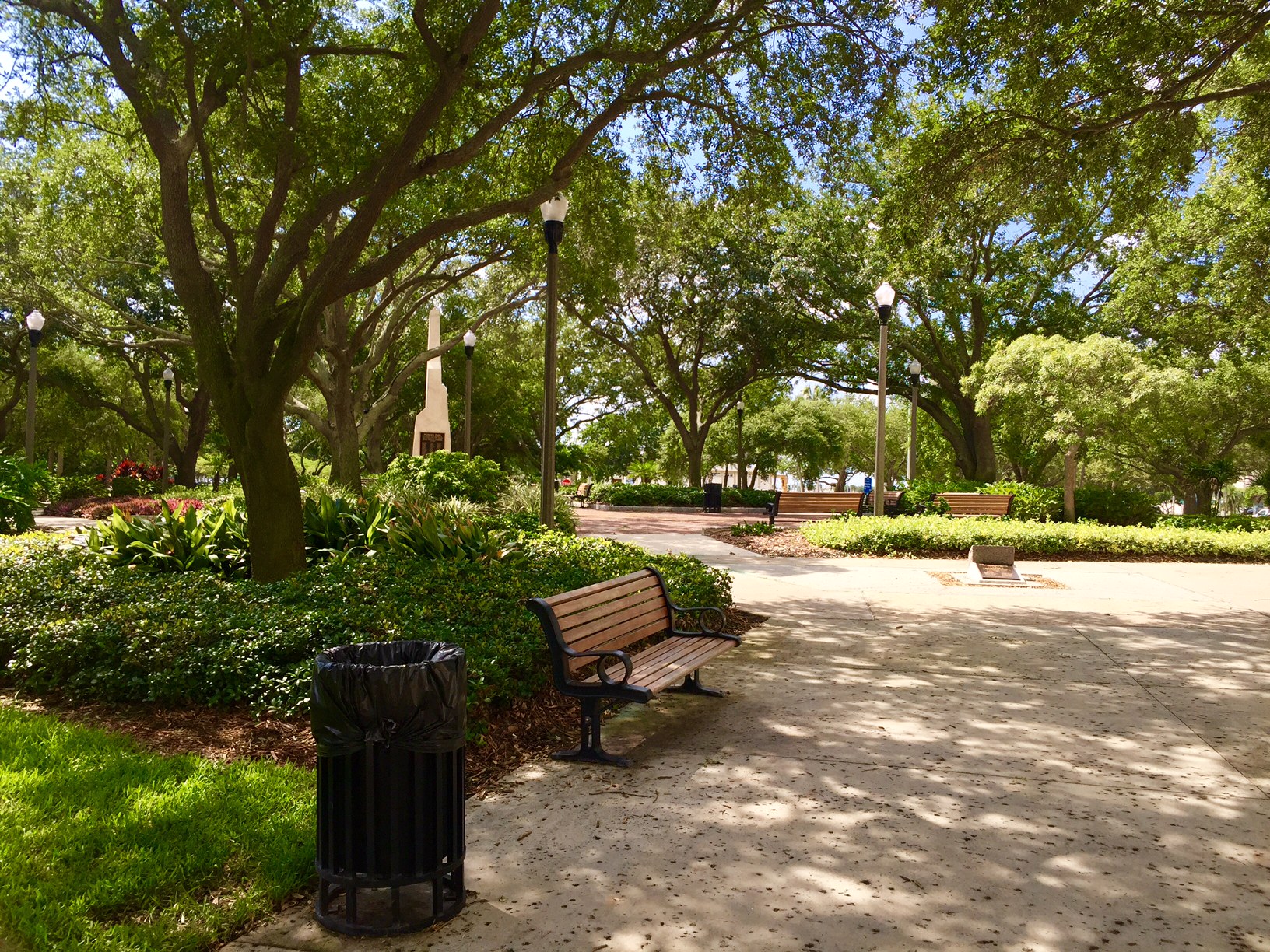 When I bring my laptop along in order to work, I sometimes like sitting in Pioneer Park. Located at the corner of Central Avenue and Beach Drive, it contains a great many benches, a view of the yacht basin, and a lot quietness.
This is a great place to go if you want some prayer time, read a new book, or just be thankful for a cool spring day.
Beth Sims (59) is a writer and blogger who also enjoys the laptop snowbird life. She lives on the Maine coast during the summer months.
"I love having breakfast in downtown St Pete, then spending time here in Pioneer Park, or up a few blocks in South Straub Park.
I, too, usually eat at Genaro's Coffee House. The service is excellent and so is the food. I can fortify my physical being and my soul in one, relaxing place. I normally drive down here because I don't want to lug my MacBook Pro a mile. 
Pioneer Park is a blessing for me. It is quiet, and rarely are there more than three people in here. Mostly writers. I don't talk a lot to others, because I do not want to short-circuit their creative process, but if someone acknowledges me while I'm leaving, I'll chat.
I live a nice life. Yes, I put in some hard hours at the keyboard, but it's worth it to see my profits continually trending upward, and when I look out across the South Yacht Basin at the beautiful sailboats.
We have a great writers' community here in St Petersburg. I get plenty of profitable ideas for my website while in conversation with other creative people. Plus, I Am continually renewing my spirit through the quiet pace of downtown St Pete, and the freshness of the outdoors.
I cannot think of a better place to spend the winter if you are a snowbird. This is such a vibrant place for body, mind, and soul. I am always a different, and hopefully better person, each time I pack my truck to head north each Spring."
*******
I like the spiritual connective St Petersburg FL brings to my life. This is a very restorative area, especially between November and April. I am fortunate to be a snowbird, and to make money with an online business.
Breakfast in downtown St Pete is just icing on the cake when it comes time to refresh your spirit.
Go to Refresh My Spirt home page from Breakfast In Downtown St Pete
Filed Under: Breakfast In Downtown St Pete
More Books For Spiritual Growth