Christmas Morning In St Pete FL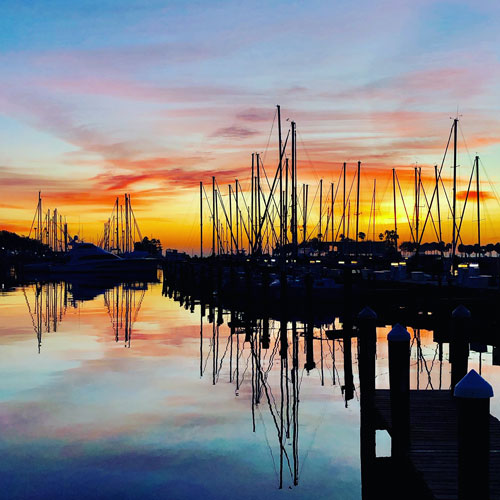 Christmas Morning Traditions
Christmas morning in St Pete was cool, clear, and sunny. The quietness of downtown St Petersburg FL was enhanced by a gentle breeze off Tampa Bay. Sleek sailboats barely rocked in the calm waters of Municipal Marina, and the atmosphere was revitalizing.
The waterfront in downtown St Pete is a beautiful place to refresh your spirit. On Christmas Day, it was especially restorative.
Sunrise came about 7:19am. I was out here with my camera a half hour before. I try to make it a Christmas Day and New Year's Day tradition to be down here.
I am thankful for my life as a Florida snowbird, and mornings on the St Petersburg waterfront have been like a private spiritual preserve. 
The waterfront park system has its own subculture of early morning athletes and appreciative seniors who find renewal in its beauty and peacefulness.
I did my best to capture the quality of regeneration with my camera, and interviews with many of the wonderful people I met on Christmas morning. 
Christmas Morning In St Pete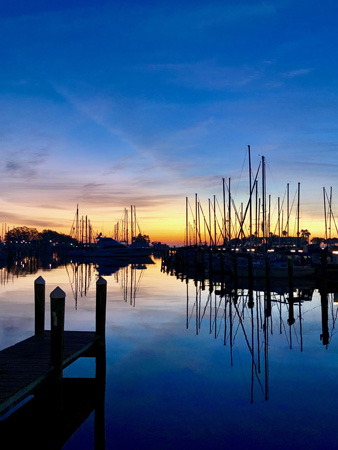 The 30 minutes before sunrise on Christmas morning provided me a great segment of time to reflect on all of the goodness I've had in the past year. The best way to refresh your spirit is through gratitude for everything about your life.
I used this time to give thanks for everything from my eyes, to my excellent health and fitness, my financial increase, my quality relationships help me become a better man, and God's protection that keeps me from doing too many bonehead things.
Jon Olson, 67, who runs along Bayshore Drive most mornings, echoed this. He said, "I have made it a tradition to run my own 5K on Christmas morning in St Pete. I love this downtown area right before sunrise. It is quiet, rarely any traffic, and the clean salt air coming off Tampa Bay seems to personify the good health the Universe wants for me.
As I run along here, I give thanks for the view of the water and these beautiful sailboats, the manicured parks opposite the waterfront, my own athletic ability at this stage in my life, and the goodness God has in store for me in the future.
Christmas morning in St Pete is restorative to my spirit. I'll go home, shower, crawl back in bed to kiss my wife awake, and tell her how thankful I am to spend another Christmas with her.
I am truly blessed to lead a life like I have."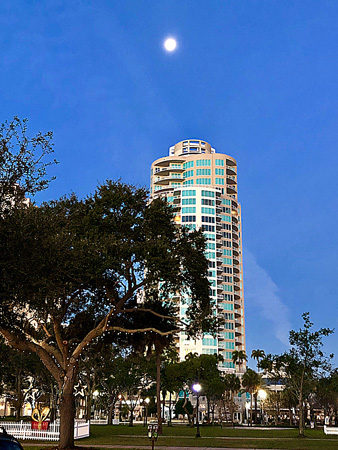 To add to the beauty of the downtown waterfront was the moon shining above a high rise apartment, behind me.
The moon is a spiritual symbol for creativity, intuition, and wisdom.
Dana Hogan, 58, was doing Tai Chi in North Straub Park with her friend, Emily Carson. She said, "We love the time before sunrise to go through our salutations and formal routine. Christmas morning in St Pete is especially poignant. It makes us get in touch with the goodness we wish to extend all through the year.
We are both snowbirds from Canada, and met down here eight years ago. We love this lifestyle, and St Petersburg is the perfect winter city.
We have made it a tradition to spend the beginning of Christmas Morning here in downtown St Pete. It sets our outlook for a wonderful Christmas Day."
Her friend, Emily, concurred. "Christmas morning in St Pete is something I look forward to the entire year. We are out here at sunrise, and our Tai Chi routine takes about 30 minutes. 
Our husbands go for a run down Central Avenue. It is completely deserted at this time.
They like to finish their 3 miles looking at the sunrise over Tampa Bay. We get together and walk back to our respective homes, shower, cook a warm breakfast, and open presents.
It is such a wonderful life, and we all give thanks that we can live it. Truly, Christmas morning in St Pete is a wonderful way to refresh your spirit."
Christmas Morning In St Pete - On The Run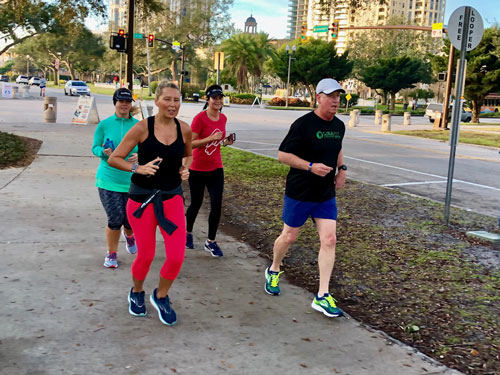 Group runs are a fairly common Christmas morning tradition in downtown St Pete. Some people put in a hard training day, some use this morning as a light run.
Some groups even dress up. Most however, just look forward to being together, and sharing the magic renewal of Christmas Morning at sunrise.
Jack Slate, 63, has been organizing a traditional Christmas morning run for the past three years, since he has retired. "I was a teacher living in upstate New York. I always wanted to go for a run on Christmas morning, but it was too brutally cold. We were always snowed-in.
When my wife and I retired three years ago, we made a pact that we would honor our commitment to the good health God gave us by having a group run at sunrise on both Christmas and New Years.
Christmas morning in St Pete FL allows us to do this. The weather has always been nice. We've never had to run in rain, but that would be okay. 
We normally run with whatever family members are here. Most times, it is about five of us, but one year it was 7. Two new moms were pushing big-wheel strollers.
After our run, we gather in South Straub Park, hold hands, and give thanks for us all being healthy and together.
This is a Christmas morning tradition we want to maintain into our 90's. It truly gives the spirit a feeling of renewal."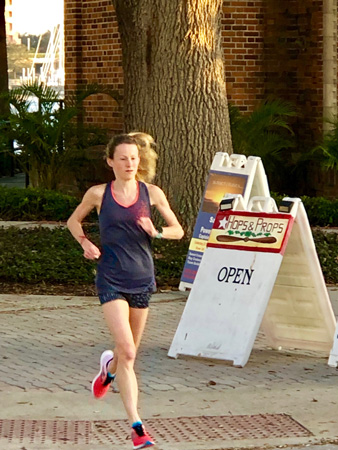 Some Christmas morning runners wish to run alone. Many just want to cruise through an easy few miles along Bayfront Blvd as a Christmas tradition.
Others, like the young lady above, hammer out intense intervals.
Cindy Olson, ran the 1500m in college, 35 years ago. She said, "Actually, I combine both during my Christmas Morning run in downtown St Pete.
I start out real leisurely, about a 10-11 minute first mile. I run another half-mile at about 8:45 pace.
After that, I run hard for 10 intervals of 400m each. I hold about 1:40 for that distance. I walk for 2 minutes in-between each interval. 
This torches my system. It burns huge amounts of body fat, makes be breathe real hard, and strengthens my thighs.
I've been doing this Christmas Morning run for the past 8 years along Beach Drive, right about sunrise. It's a Christmas tradition I'll keep until I can't run any more.
Downtown St Petersburg is the perfect place for me on Christmas day."
Biking On Christmas Morning In St Pete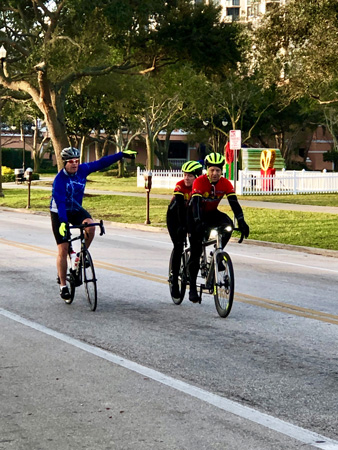 Don't be surprised to see cyclist riding along Bayshore on Christmas morning. 
Alternative Transportation On Christmas Morning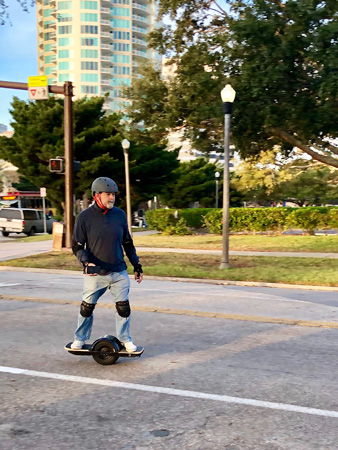 Check it out! Who would have expected a retiree on a $1200 SkootRider on Christmas morning in downtown St Pete FL???
Not me, I was the most surprised guy by the the South Yacht Basin. This guy was carving it up!
Walking On Christmas Morning - Downtown St Pete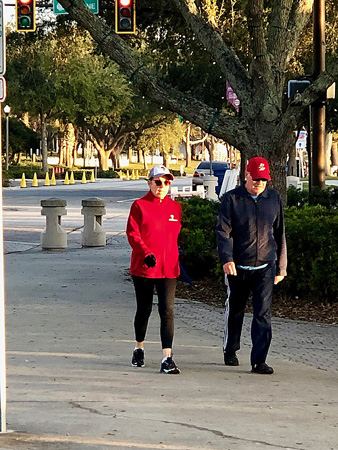 Walking is the main activity you see with most locals and snowbirds on Christmas morning in St Pete. It's easy, it's low impact, and you have the connection of conversation to add to the Christmas mood.
Joseph and Thelma Hopkins are snowbirds from Cincinnati OH. Like many, Joseph is a retired teacher (Chemistry), while Thelma worked for Bell Telephone.
Thelma said, "Our Christmas morning walk has been a staple of our retirement. We've been doing this in St Petersburg for almost 20 years now. It is something we really look forward to.
Even though we walk for two hours everyday in downtown St Pete, Christmas day is always special.
We only go an hour on Christmas morning, but during our walk, we discuss all the things we are thankful for. The health of ourselves...the health of our grown children...the lives of our grandchildren.
We feel so blessed to lead this snowbird life between Cincinnati and St Petersburg. This is so refreshing for our spirits. It keeps our bodies, and our heartfelt feelings young."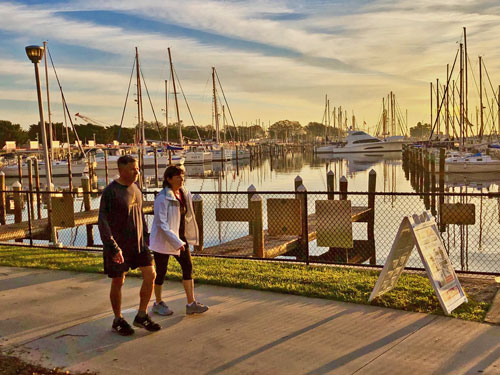 Alone Time On Christmas Morning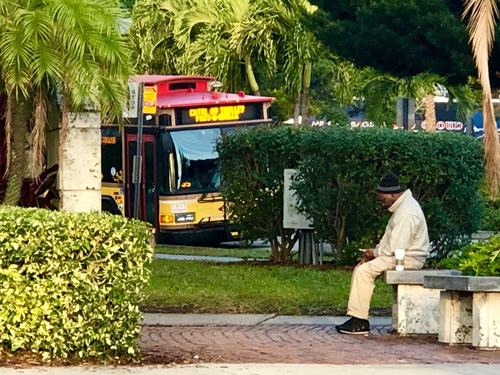 Some people choose to have alone time to refresh their spirit.
Christmas morning in St Pete provides a variety restorative activities at sunrise along the waterfront.
Go to home page from Christmas Morning In St Pete
Visit The Beautiful Treasure Island Beach Trail
More Books For Spiritual Growth
Filed Under:Christmas Morning In St Pete FL