Barview Jetty Park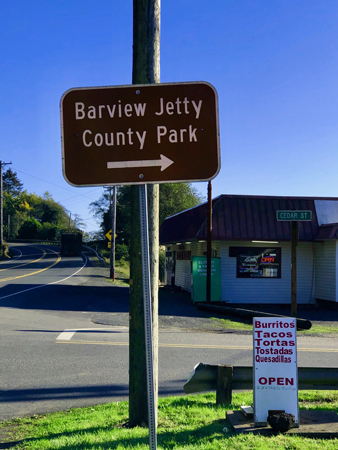 Barview Jetty Campground
Barview Jetty Park is a Tillamook County park. Located along Oregon Highway 101, it's 2 miles north of Garibaldi. Barview Jetty Campground is wooded and clean.
This is a quiet coastal retreat that is a great place to refresh your spirit. It is peaceful and well-maintained. (However, the noise level definitely increases on weekends in the summer. To experience the richness of quiet, it is best to visit in the Spring, or Fall. Once school is out, weekends can get real crowded.)
Rich Hawkins (82) a retired tractor salesman from Corvallis OR, said, "I love this little park. It is so pleasant. My wife and I have been coming here for years. The beach and the jetty are within easy walking distance. The rangers and park hosts work hard to keep it clean. The Sheriff makes regular patrols a few times each day in the summer. It's real safe.
We come here in the mornings, on the weekdays, when we stay at our son's house in Rockaway Beach. We love to go up on that little hill over by the jetty and just inhale that clean salt air.
My wife brings a little devotional and we give thanks that we have lived so long, and have so much beauty to look at."



Barview Jetty Park In Pictures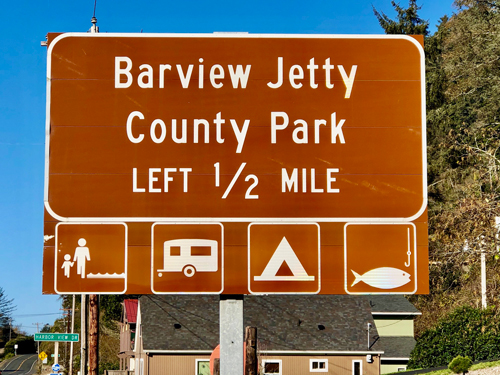 Barview Jetty Park is easy to find. It is located on Cedar Road, right off Highway 101 North. There will be large signs about 400 meters from the entrance on both the north and south ends.
This is the sign you would see if you were driving north from Tillamook, toward Rockaway Beach.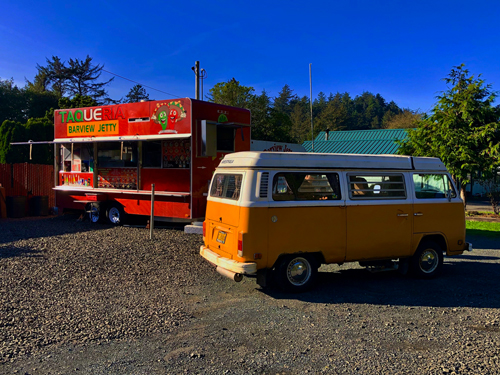 There is a little trailer selling Mexican food on the northwest corner of Highway 101 and Cedar Road. You can't miss it.
This little place actually has good food, and at a reasonable price. I got a beef brisket burrito there that was about the size of a bazooka. That thing filled me up, just eating half of it. I think it cost me $8, including the bottled water.
They put an unbelievable amount of meat in it. I still had 1/2 for the next day.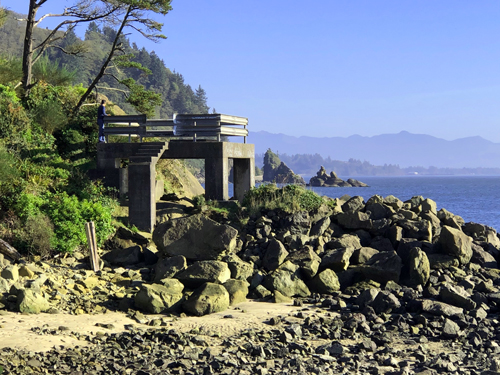 Cedar Road dead-ends right at the park entrance. There is a little day-usage parking lot and beach area. 
Off to the left, you'll see an old Coast Guard observation tower. People climb up it, but I would not recommend it. There are really no steps up to it. You've got to figure out your own handholds. Plus, the path leading up to it is filled with slippery rocks.
Like I said, this is a good place to stay away from, even if it looks intriguing.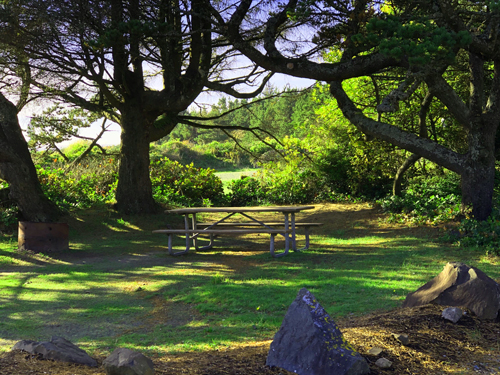 To the right is a secluded picnic table. Nestled in rich, green grass, and shaded by the twisted branches of coastal trees is a picnic table.
For me, this is a good place to stretch before running inside on the park loop road. 
Others find it a quiet sanctuary to refresh their day.
Jolene Crowe (45) a writer from Buffalo NY said, "I've been coming out to the Oregon Coast for years in the spring time. I stay at a friend's rental home in Garibaldi.
This is a peaceful and welcoming little area where I can start my day by journaling and with prayers of gratitude. Often times, it the early spring, it can be a bit too windy, but when the breeze is cool and gentle, it is like a little piece of Heaven.
Barview Jetty Park is much more than a fisherman's paradise. It alters my heart in so many good ways."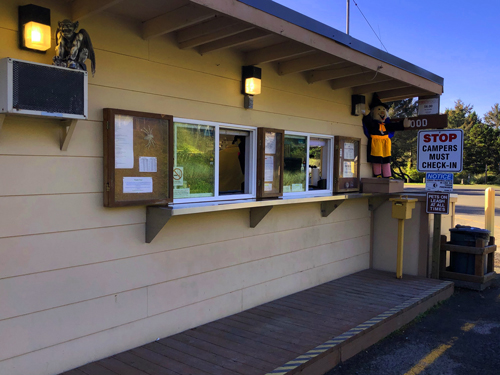 To the right, you'll find a Park Ranger station and sign that will direct you back to Barview Jetty and the RV campgrounds.
The rangers are extremely helpful, and have excellent maps. There is also a posting for the park fees.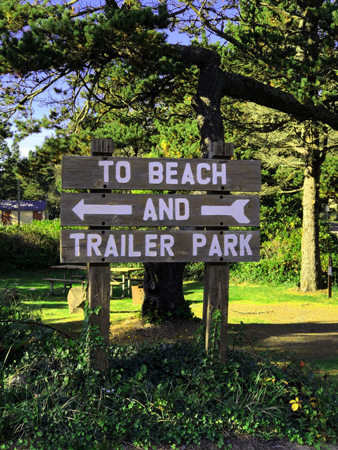 Just follow the arrow. It is hard to get lost in Barview Jetty Park campground area. Tent camping sites are along the front part of the road.
All of the RV parking is in the back.
Ed and Faith Parker are in their mid-30's and live in Lake Havasu AZ.
Faith said, "We come out to the Oregon Coast every summer. Since we are both teachers, this makes it easy. We like to camp here at Barview Jetty for about a week. We only stay Monday through Friday, though. The weekends get real packed during the summer. Way too much traffic comes by our tent.
I have really gotten into iPhone photography and these little campgrounds provide me with thousands of subjects. Everything from foggy mornings to colorful coastal sunsets.
Eddie likes to read a lot when we're away from teaching. He catches up on all the Lee Child and John Grisham books he cannot read during the school year.
We both like to run, so the park loop makes a nice choice for getting in a workout in the morning. 
Barview Jetty Park campground has been a regular part of our summers for the past three years."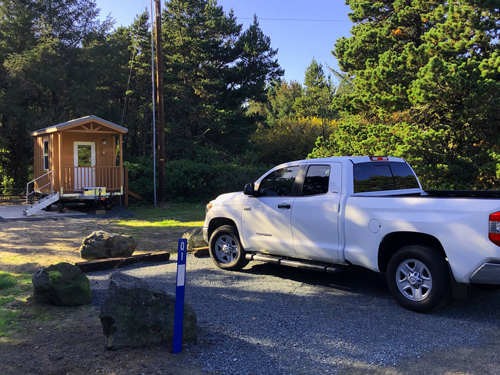 My new Tundra is parked in front of one of the little portable cabins. They are sturdy and well-built. They can sleep three people pretty comfortably. When I was here, they started at about $70 for the first night, then $60 after that.
Prices change each year, so please check with the ranger station. It would be smart to call ahead, (503-322-3522) to get current rates and availability.
I mentioned my new truck because just having a simple online business that only makes about $200 per day allowed me to be able to purchase it.
Plus, when you have your own home business, you can legally write off just about the same expenses as Bill Gates or Jeff Bezos.
I write off my gas, insurance, maintenance, motel room, etc when I am traveling to create these small reviews.
I easily save $7000 in taxes just by following the letter of the tax laws, and documenting what I do. It takes about 10 minutes each day.

There are some people who travel almost for free because of the legal tax deductions allowed in the United States.
Sarah Edwards (56) is a travel blogger who resides in Taos NM during the summer, and Scottsdale AZ in the winter. She said, "I am so fortunate to live in America. I can travel to beautiful places, write about them on my website or in a magazine article, and barely touch my savings. Legal tax deductions make it all possible."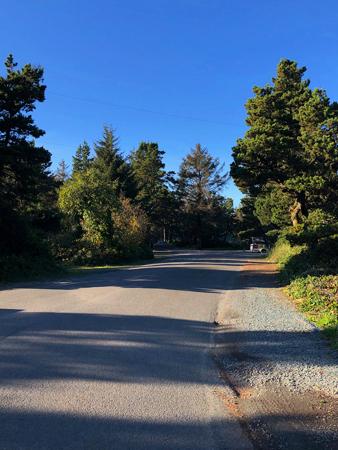 The road back to the jetty, and RV campground is smooth and easy to follow.
It's lined with tent camping spots. They run about $35 for the first night, but drop down to $25 (some even less) for subsequent nights.
There are trees for privacy and a space to back in your vehicle.
This is also a great road to run on. Barview Jetty Park does not have much traffic during the weekday mornings. This is when I always come.
Weekends during the summer are high-traffic times.
The jetty at Barview Jetty Park is, of course, the main attraction.
37,000 tons of huge stones were used in the construction of the jetty. It extends over a mile (8000') out into the Pacific Ocean, and was built to protect the shoreline from the fierce waves that pound the Oregon coast.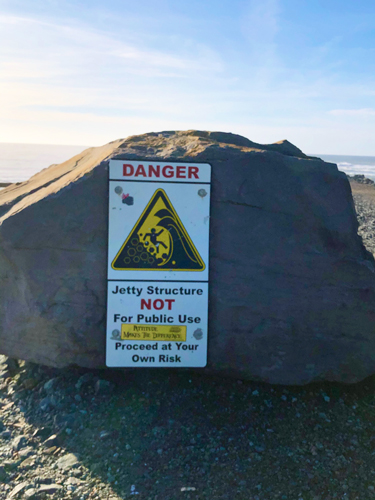 You can walk out on the jetty structure, but I wouldn't advise it. All it takes is one sneaker wave to wash you off the top.
Lee and Irene Harms, both in their early 40's, like to walk on the jetty, but they are respectful of ocean.
Irene said, "I'll walk about a hundred yards or so past the warning sign, but that's about it. The walkway starts off smooth, but after about a 100 yards, the footing gets worse real quickly because the rocks become much larger.
Even though I consider myself an athlete, it's hard to maintain both footing and balance. To me, it is too easy to get hurt by falling on the bigger rocks.
Lee has walked out farther, but even as strong as he is, it is a struggle. It might take 20 minutes just to make it a half-mile.
We come to Barview Jetty Park more for the relaxation and refueling our spirits, not really challenging the elements."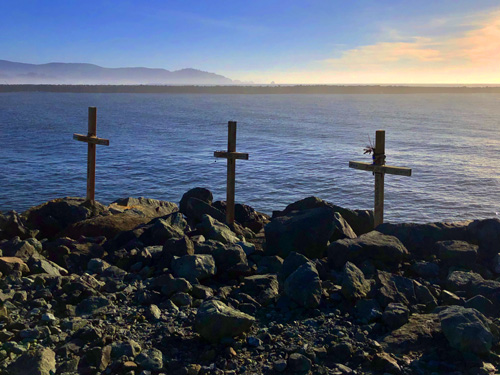 The three crosses on Barview Jetty will give you pause. The myth is they are a memorial to individuals who had been washed off the jetty, never to return.
This is not true.
They are a memorial to the crab boat, Catherine M, that was broken apart by a huge wave on the south side of the jetty about 1:15am on February 7, 2006.
The remnants of an old pier can be found on the south side of Barview Jetty.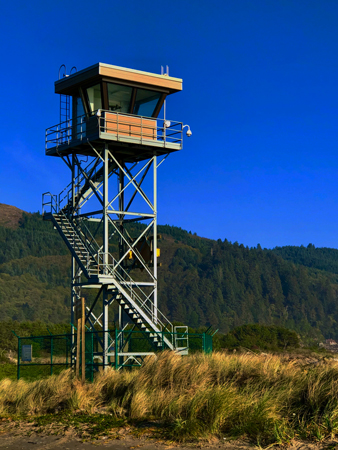 The newer Coast Guard observation tower is near the south part of the parking lot, out by the jetty.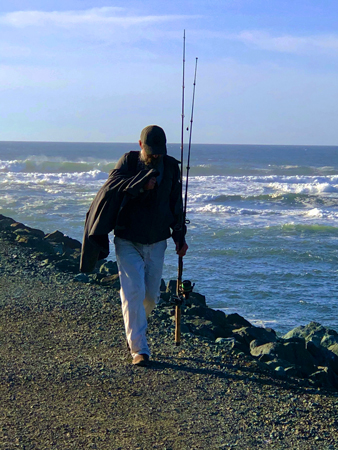 Although there is danger by being out on Barview Jetty, it does not phase many of the older fishermen who find it a prime spot.
August is the most popular month for fishing in this area.

The Hill At Barview Jetty Park Campground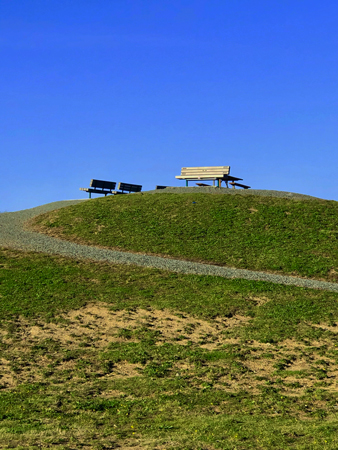 This small knoll is probably the main attraction for both spiritually-minded people, and those who just want a beautiful view of the Oregon Coast.
The climb is not too tough, even for seniors. The  Barview Jetty Park rangers keep the path in great repair.
Lorraine Mills (66) is a retired teacher, now a writer, she comes up here many of the same early mornings as us.
She said, "I cannot get over the beauty and sense of calm I experience here at Barview Jetty Park. I drive up here from Garibaldi several mornings each week, just to experience the sunrise.
I bring my gratitude journal and a thermos of green ginger tea. I spend about 30 minutes up here, being thankful, writing in my 5-minute journal, and sipping my hot tea.
It is so beautiful. It refreshes my spirit and accelerates the good for my entire day.
Before I go down, I do some stretches, 10 push-ups and 20 air squats. I put my thermos and journal in my car a take a 20-minute run through the park.
I don't know if there is anything I could do that would bring me closer to the goodness of the Universe."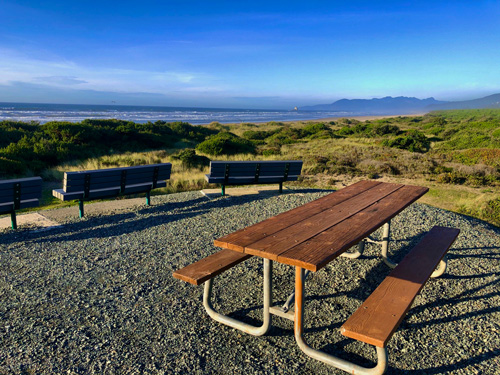 In addition to the viewing benches, there is a lone picnic table.
Cindy Olsen and her husband Fred are both in their late 50's. They also come here several mornings a week, but a little later than Lorraine and myself.
Fred said, "We get here about 8:30am. That gives us a little over an hour of quiet time before the park starts stirring. Cindy and I are so thankful for the re-centering that we can do on these beautiful mornings.
Some days, we bring a devotional. Some days we just hold hands and give thanks. Some days, we call our daughter back in Daytona Beach FL.
Afterward, we take about a 35-40 minute walk around the park.
You have to do this on weekdays, because it can get real crowded on Saturdays and Sundays. Way too many big SUV's and huge RV's pulling through the park.
The beauty of Barview Jetty Park campground is starting to get pretty well know during July and August."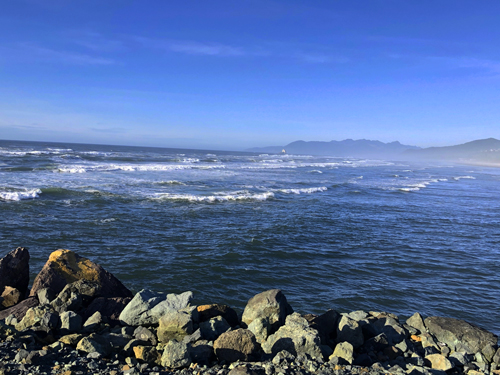 Here is the view from the little hill, looking north, back toward Rockaway Beach. You can see how violent the Pacific Ocean is out here.
Evelyn Halstead (62) ia another retired teacher who has her own home business. She says she has re-invented herself as a photographer and travel blogger.
"I love the hill here at Barview Jetty Park campground," she said. "I come up here mostly on Wednesdays. I reserve the middle of the week so get re-centered and revitalized.
A lot of times, when I an traveling the coast in my Sprinter van, I am under the gun to get photos edited, and out to clients. Or, I am trying to compose 2500-word blog posts with accompanying, interesting photos.
It is too easy to isolate in my little 'lab on wheels', and just keep working.
When I hike up this little hill, I look forward to seeing the expanse of the abundance the Universe gives us for free. To me, the ocean is a living thing that wants to connect with me.
My spirit is refreshed when I watch the power of the waves. It gives me a feeling that, as small as I am, God has me in the palm of his hand.
The Universe has blessed me with an entirely new career where I travel leisurely, and make more money than I ever did at teaching.
There are four things I seek to do eat day: Pray, read, write, and  workout.
Spiritual, mental, and physical fitness all go hand-in-hand.
Most times when I am visiting Barview Jetty Park, I run a series of 8-10 hill sprints. I try to go hard for about 15-20 seconds, then walk down about 2 minutes.
At 62-years old, it's not much of a sprint, but I do try to pump my arms and legs as fast as I can. I try to pattern my lifestyle around eating Paleo, and doing burst workouts.
They keep old age away, and allow me to pursue my spiritual travel goals. I want to continue to refresh my spirit ia as many ways as I can."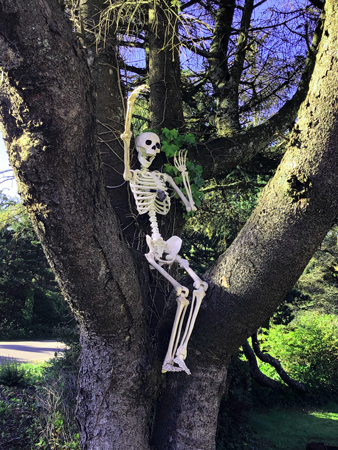 As I was leaving, I notice this skeleton in a tree. I had nothing to do with any myths surrounding Barview Jetty Park campground.
I just happened to be there a few days before Halloween.
*********************
If you get the opportunity, please visit this little park. I want you to experience the beauty, simplicity, and peacefulness it has to offer,
Go to Refresh My Spirit home from Barview Jetty Park page
Twin Rocks Turnaround Park - Hidden Beauty
Manhattan Beach State Park On The Oregon Coast
Filed Under: Barview Jetty Park
More Books For Spiritual Growth