Twin Rocks Turnaround Park Is Hidden In Rockaway Beach Oregon.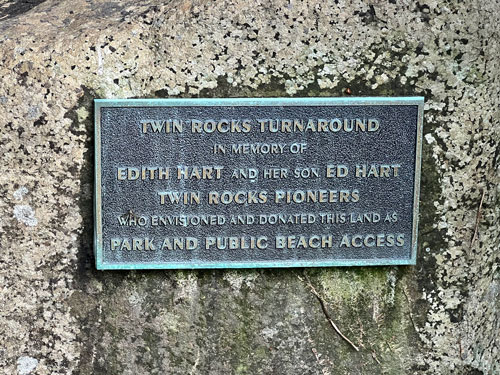 Twin Rocks Turnaround Park in Rockaway Beach is perhaps the most hidden small park in the United States. Created on Oregon's north coast, it offers an iconic view of the Pacific Ocean, and direct access to the beach.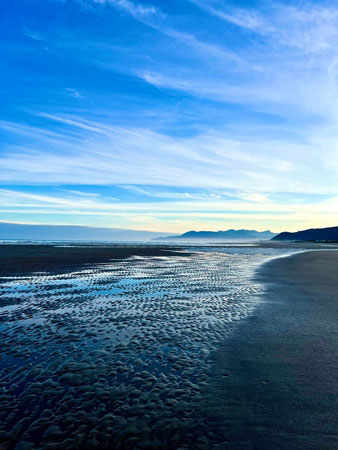 Twin Rocks Park Is Beautiful


Rockaway Beach, located in Tillamook County on the Oregon Coast, is well known for its stunning ocean views, kite-flying, ice cream shops, Pronto Pup, and sandy beaches.

What is less well known is the existence of Twin Rocks Turnaround Park, a tranquil hidden getaway, smack in the heart of this small coastal town.
I've lived here for 4 years, and I just found it, today. This park is a veritable sanctuary, offering a relaxing escape from Highway 101 traffic and the city's tourist activity.
The park is home to a mature Douglas firs, and Western red cedars, which provide cool shade for picnics and reading. The native shore flowers add pleasing colors to this forest-like area.
A paved trail leads down to a beach access point on the Pacific Ocean.
Here visitors can enjoy miles-long views of the Oregon seashore and the iconic Twin Rocks, two large sea stacks that rise out of the offshore waves.
These two gigantic, 100-foot-tall sandstone rock formations, formed over the course of 20 to 30 million years by the upheaval of underwater sandstone.
As time and the ocean eroded the connecting ridge between them, twin rocks formed from the more durable remnants.
Meghan Edwards (72) is a retired poet with a home on Breaker Avenue. She said, "I love coming to the Turnaround Park. It is so peaceful.
I come here most early mornings during the spring, summer, and fall to drink some hot green tea and write in my journal.
I will hike down to the overlook where we have two benches facing the wide shore, and look out onto the beach. I am so thankful to the county for creating this."
Twin Rocks Turnaround Park Location

Twin Rocks Turnaround Park is located at 905 South Breaker Avenue, one block west of Highway 101 in Rockaway Beach. It is not marked as a normal park, and you can easily pass it by.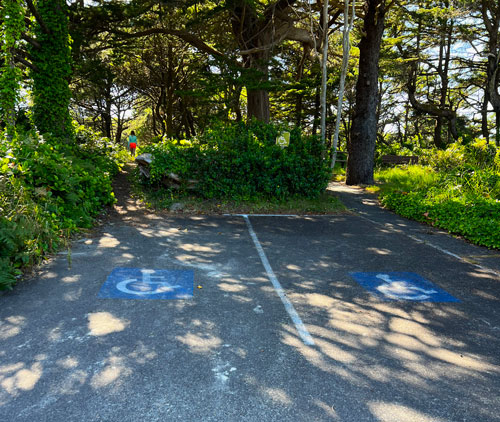 The one give-away is the small parking area with two ADA handicap parking spaces at the entrance, but even they are badly weathered and faded. The other landmark is the street sign denoting where Breaker Ave and Alder St intersect.


Amenities At Twin Rocks Turnaround Park
Twin Rocks Turnaround Park provides a wheelchair accessible asphalt path to a picnic area with two tables designed for disabled visitors. This pathway is connected to the one leading down to the beach.

Four benches offer views of both the property, and the ocean. Please note there is no restroom, nor grills for cooking.
A Little History About Twin Rocks Turnaround Park
Eileen Ross (43), a Type 2 diabetes consultant, told me, "There is some history behind this little park. This location was where our first postmaster, Edith Hart lived.
She and her son donated this land to the county for them to preserve it as a park. She passed away back in the middle 60's.
The rocks that outline the path are from the original foundation of her home. This place is almost like a memorial to her forward-thinking."

Twin Rocks Turnaround Park In Pictures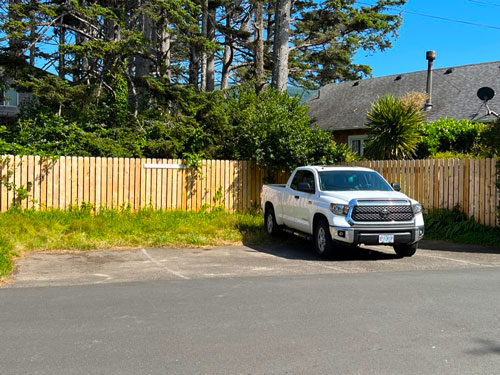 There are four parking spaces on the east side of Breaker Avenue.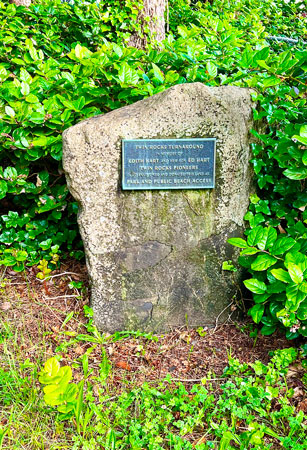 A memorial to Edith Hart and her son, Ed, for donating their former homesite to Tillamook County. 
A paved path leads back to the beach. Ed Hart wanted handicapped visitors to have access to the beach view.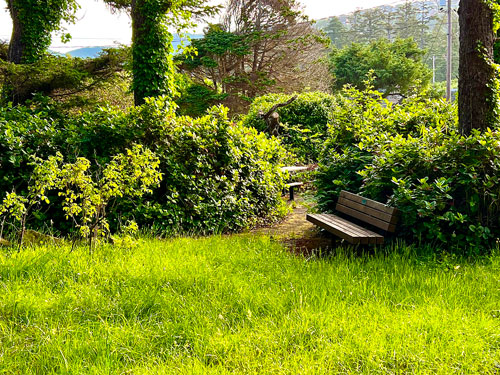 One of four benches in Twin Rocks Turnaround Park. This gives a nice view of the forest trees.
Ed Schuler (66) is a retired teacher from Washington state, he said, "We moved here a two years ago, but I just found this little park maybe six months back.
There is no map or guide to it. I just happened to pass by on a morning walk, and wondered what a picnic table was doing back in those trees.
Since then, this lone bench has become a favorite place for me to sit for about 10 minutes before I go out to the ones overlooking the sand."
Some colorful flowers along the pathway to the Pacific Ocean.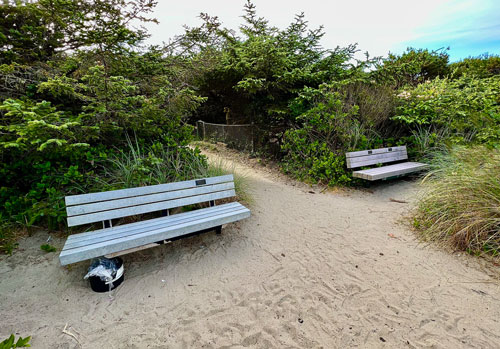 Two benches overlook the seashore.
Joanne Hainey (53), an artist who lives near Barview Jetty Park, several miles south, said, "I walk a lot around the campground at Barview Park, and I like to go up to that little hill to write in my sketch book, but sometimes it can get windy up there.
I like this enclosed area much better. Plus, it is rare to see anyone else. This is like my own little morning retreat. It definitely revitalizes my spirit."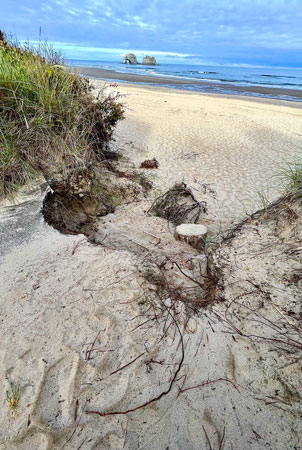 This beach access point needs to be repaired by the county. It is a bout a 3-1/2 foot drop. There is a sandy pathway down, but it is really steep. 
Beware so you do not get injured. 
If you are spending a few days in Rockaway Beach, and want a memorable experience, make sure to visit Twin Rocks Turnaround Park. 
Return To Home Page from Twin Rocks Turnaround Park
Filed Under:Twin Rocks Turnaround Park


#TwinRocksTurnaroundPark #TwinRocksPark #RockawayBeachOregon
More Books For Spiritual Growth