Manhattan Beach State Park
Oregon
Manhattan Beach State Recreation Site
Rockaway Beach Oregon
Manhattan Beach State Park in Rockaway Beach Oregon is a small day-use park that offers relaxed solitude, and 7 miles of secluded beach on the Oregon Coast.
Located about 1/4-mile north of Neah-Kah-Nie High School on Highway 101, you will turn at Beach Street and cross the Southern Pacific Railroad tracks.
Manhattan Beach State Park is only 41 acres in size. It offers quiet picnic areas, short paths through the woods to a beautiful beach on the Pacific Ocean, and extremely clean restrooms.
Sadly, there is no playground for children or built-in charcoal grills, but that doesn't seem to bother anyone.

This is a great place to come during the week to walk in Nature, observe some beautiful views, and refresh your spirit. (Please note: The small parking lot gets full on the weekends. Residents from Portland love this little state park.)
People come here for the peacefulness and the exceptional beauty. It is a great place to read, do some beach combing, or just close your eyes and listen to the sounds of nature.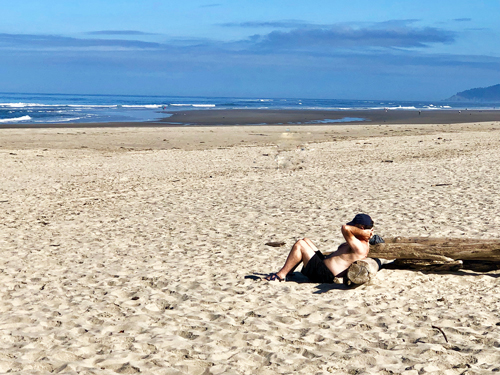 Views From Manhattan Beach State Park
Rockaway Beach provides a panoramic wonderland on the Oregon Coast. 
To the south are the sea stacks formation known as Twin Rocks. This iconic structure is the source of much photo activity from locals, as well as visitors.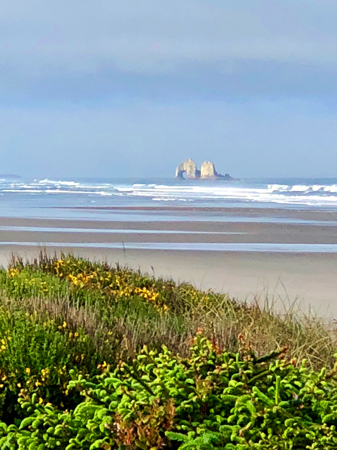 Diane Fenton (68) a retired nurse from Wells NV said, "I love looking at the Twin Rocks. It is so peaceful. There is nothing like this in the small town where I lived in Nevada. This is like being on another planet...a truly beautiful and wonderful planet.
I take pictures of it in all seasons, and at all times of day. I've had several enlarged and they are in my cottage in Rockaway Beach.
I never get tired of seeing this imaginative rock formation. The Manhattan Beach Park provides great access."
Looking north, you can view the South Jetty of the Nehalem River. This is where the river flows into the Pacific Ocean.  
Bill Tolar, 62, a former United States Marine and retired police officer said, "I can't get enough of this area. We live five miles up the road in Wheeler. I bet I come down here to Manhattan Beach State Park several times each week.
I love the quiet. Of course I stay away from here on the weekends when it becomes Portland-West, but I am usually here with a book, a camera, or a fishing pole several times every week. 
This is in such contrast to where I was stationed in the Marine Corps. It seems like every one of those places was hot and humid. 
Here, it is mild from March to November. I love fishing near the jetty on summer mornings. I always get something to take back home for us to eat.
Other days, it just nice for the wife and I to pack a picnic lunch, and some beach chairs. We'll read down on the beach and walk to the jetty, or maybe take some pictures of Twin Rocks."
Manhattan Beach State Park In Pictures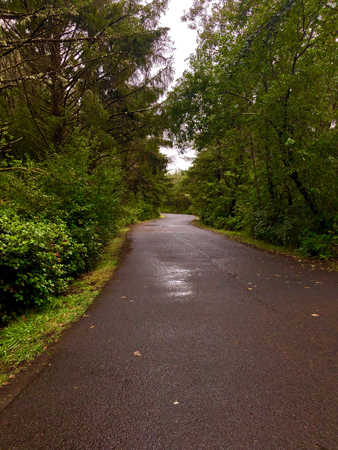 The entry to Manhattan Beach State Park is like a forested canopy. It's only about 200 meters to the parking lot. I always make this part of my morning run. No matter which one of my many routes I go, I always come through the park.
Grace Johnson (60) is one of the senior runners here in Rockaway Beach. She is a retired teacher from Madras, OR. Grace said, "Just about all of us who run or walk through the Nedonna Beach development come into the park. It's a such a quiet place to stop and stretch on one of the picnic benches or time a few intervals around the short island loop in the parking lot.
Running up from the entrance is beautiful. It seems to revitalize my spirit. I'm always hoping to see a deer.
During the week, between 7:00 am and 9:00am there is hardly any vehicle traffic. Mostly people who bring their dogs out here, or people from other areas who are on a morning walk.
Usually about 10:30am, there will be more folks who want to picnic, take pictures, or read.
Just make sure you come Monday through Thursdays. It can start getting busy on Friday in the afternoon. Saturdays and Sundays in the summer, the parking lot is pretty packed."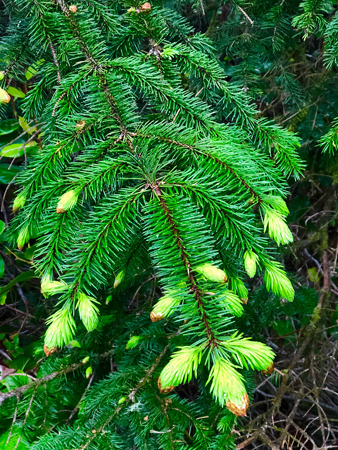 The fir trees that line the entry way are beautiful. Couple this beauty with the clean salt air off the Pacific Ocean and it very easy to understand why so many walkers and runners enjoy the revitalizing effects of Manhattan Beach State Park.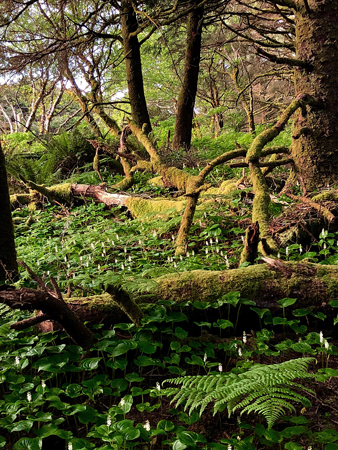 Looking off into the forest on either side of the road provides even more beauty. The moss covering the fallen trees and old branches looks like velvet.
This kind of elegance and artistry truly helps to replenish your spirit.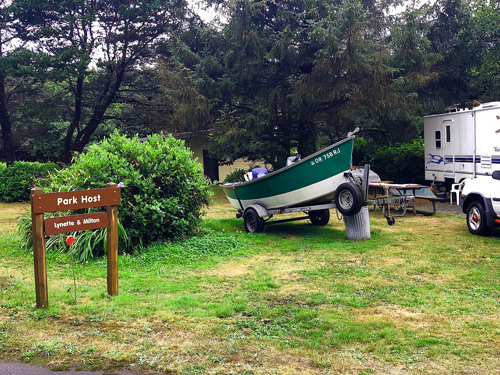 Each summer there are park hosts to help out . They circulate during the day and offer friendly conversation. They are very knowledgeable about the park. 
They are great about getting repairs for the restrooms or picnic tables.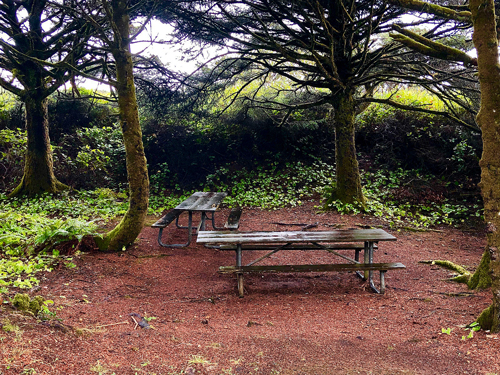 There are four sections with picnic tables on the west side of the park. This is the largest. The other areas have single tables.
Jack Eldridge (70) owned a small painting company in Stow OH before he moved to the Oregon Coast. He said, "I love picnics. It was hard to have them back in Ohio because of all the flies and  mosquitoes. Here, you don't have that problem.
We picnic out here at the state park a couple of times a week. I love bringing the grandchildren. They run around on the beach all day. It is such a wholesome place to raise kids. "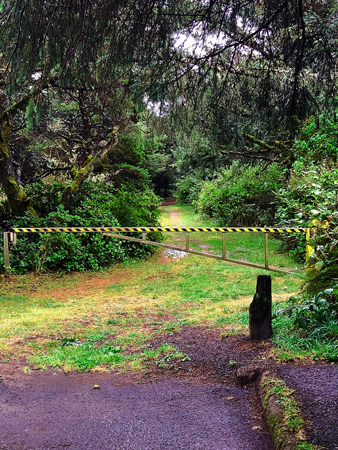 At the south end of the Manhattan Beach State Park parking lot is a gated pathway. This is to keep people from driving unauthorized vehicles down on to Rockaway Beach.
You can walk around it and use the trail down to some nice views.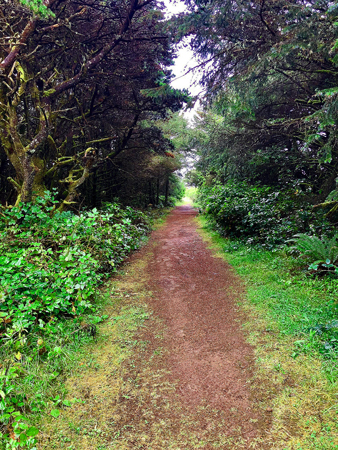 The pathway is real wide, and it drains well after a heavy rain. I had no worries walking on here, this morning, and it rained hard all night.
This is a peaceful walk of about 200 yards. It's definitely an environment to refresh your spirit.
Elenor Hendrix (61) who moved here from White Springs AR, said, "I love this trail to the beach. I bring my big mastiff down here. He loves all of the different fascinating smells. 
Since we go so slowly, it gives me a great time to be in prayer about how thankful I am to live in such a beautiful place, and to have my health.
This quiet little park is very helpful in revitalizing my spirit."
The end of the trail puts you facing a condominium complex out on Highway 101 in Rockaway Beach. As you can see, kids spent the weekend building one of the many creative driftwood "clubhouses" on the beach.
Be wary of these structures, junior high guys are not professional engineers. These things can easily collapse.
The park ranger spends a good bit of his morning dismantling little shacks, like this, from Manhattan Beach State Park all the way north to the jetty.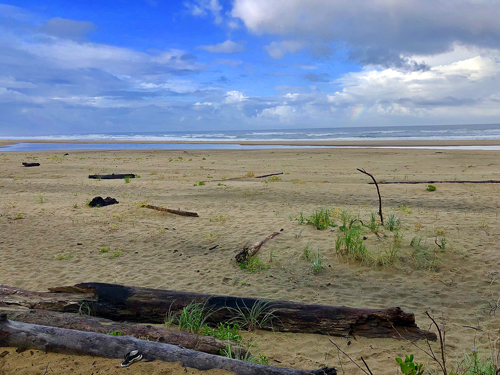 Looking directly west from the end of the trail, you will have a panoramic view of the Pacific Ocean. This is a morning after a full night of heavy rain.
On weekdays, this area running parallel to Manhattan Beach State Park is essentially deserted.
Dawn Ester (45) is a writer who lives in Rockaway Beach. She said, "I come here almost every morning. It is so easy to park in the lot, do some stretches on the picnic tables, then do a light warm-up on the path out here to the beach.
I run from here down to the jetty. I go pretty slow so I can enjoy the beauty. This is so healing to me. It takes me about 25 minutes. 
Usually, on the way back, I'll so some accelerations, or maybe a set of eight sprints. I come back a lot faster.
When I'm finished, I go back up to my car and read a selection from my copy of The Secret - Daily Teachings. I usually do this at one of the picnic tables so I can hear the forest birds and smell the fir trees.
I love this book! It is a daily reminder of the direction I want my life to take. It focuses on seeing abundance in your everyday life, and being continually grateful.
Combining these daily observations with the beauty and peacefulness of this little park swells my heart. It is really restorative to my spirit."
More Manhattan Beach State Park Pictures


This little trail out to the Pacific Ocean is marked. It starts right by the restrooms. It leads you along a beautiful path that will take you out to a secluded bench where you can enjoy all aspects of the beach in almost total privacy.
One of the trails leading to the beach from Manhattan Beach State Park. It's only about 100 yards to the end.
Janet McAllen (58) said, "My grandkids and dogs love this little path. There are some open area off-shoots from the trail, and all of them enjoy exploring those places. 
It is so quiet and peaceful in this park on the weekdays. Weekends, though, there is a lot of foot-traffic along here."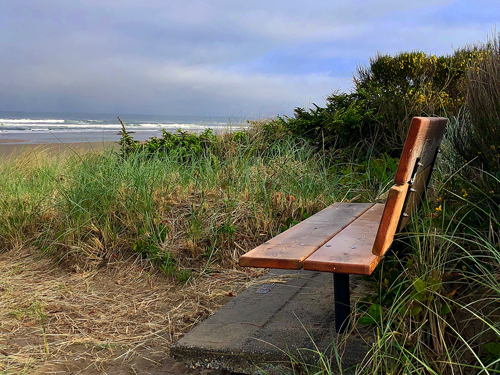 This lone bench just outside Manhattan Beach State Park is one of the most popular places to read, think, or meditate.  It overlooks the Pacific Ocean. You can see all the way down south to the Twin Rocks formation.
Donna Haskins (48) is a writer with her own Internet business. She said, "I just love this little bench. I bring one of my journals out here, and my creativity immediately turns on.
This little dune is a great location to observe Nature and people. I'm secluded enough that I can be extremely focused without seeming rude or invasive. I get a lot of ideas for my online business content out here.
It is tranquil and gentle on Rockaway Beach. It's usually a perfect temperature. I spend the whole day in jeans and a sweatshirt.
After sitting for about 45 minutes, I take off my shoes and socks to walk on the beach. 'Earthing' is very healing for the body and the spirit."
Jack Saunders (35) is also a writer. His interest is in outdoor activities and mens fitness. "I make great use of this bench. I'm usually out here after lunch. 
I run and lift weights in my garage in the mornings, then start writing about 10:00am. By 1:00pm, I'm usually ready to take a break, so I bike over here to the park.
I may bring a journal to jot some ideas in, but normally I'll bring a fiction book. I meditate or pray about how thankful I am to live in such a beautiful area of the Oregon Coast, then read a couple of chapters of my novel.
Afterward, I make sure I get 30 minutes of walking barefoot on the beach. The benefits of the beach are incredible on all levels. 
Manhattan Beach State Park may be a little nondescript, but it is very restorative to me."
One final thing about the beach area running parallel to the park is that the city of Rockaway Beach has placed a marker to let you know where the trail is back to the park.
Marker 25.
This path goes past the bench you read about above, and comes out right by the restrooms.
If you are seeking a pleasant and beautiful environment to complement your spiritual awareness, motivate your creative talents, or increase your fitness, you cannot go wrong with this area of Rockaway Beach.
As Jake Ellison (69) former US Marine helicopter pilot and Delta Airlines pilot said, "I'm in the last third of my life, and I have been fortunate to find such a beautiful place to live. Coming to Manhattan Beach State Park on a daily basis just makes me that much more thankful."
Go to home page from Manhattan Beach State Park page
Visit Manzanita Oregon City Park
Visit Twin Rocks Turnaround Park
Filed Under:Manhattan Beach State Park
More Books For Spiritual Growth