Stacking Stones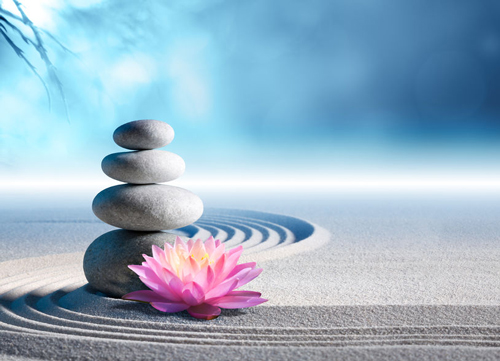 Stacking stones is a frequent practice here in the Pacific Northwest. Rock stacking is a spiritual observance found in the forests, mountains, and on the coast. Once you know what you are looking for, these little altars can be easy to spot.
People have been stacking rocks since they've been walking upright. It is a practice that is eons old, and consistent across distant and unrelated cultures.
The meaning behind these stacks cover both practical and spiritual.
In many instances, the stacking of rocks were for navigating unfamiliar trails. They provided direction.
Balanced stones were also part of ancient burial rituals, sometimes signifying burial grounds, and they were used in ceremonies relating to astronomy.
Now, the majority of these small stacks you find in the outdoors have more to do with personal connection to both Nature, and the Universe.
Susie Lyn Jacobs (53) is a writer living in Cannon Beach Oregon. She said, " Stacking stones has become a ritual of gratitude for me. There is rarely a day when I do not take time on my beach walks to build a small alter of stones near the tideline, and reflect on all of the blessings I have in my life.
There are several places along the beach, here, and also up at Ecola Park , where I like to sit and write in my journal on summer mornings. I'll find 5 or 6 stones, and stack them as I silently hold each one in prayer, for a specific person or for protection in a specific instance.
It's comforting and brings me a measure of peace because I must focus and be mindful of what I'm doing ."
The Benefits Of Stacking Stones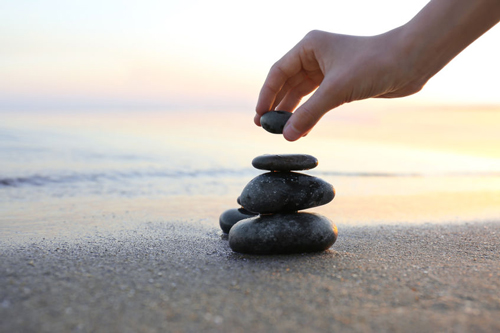 The benefits of stacking stones are numerous and varied, but usually come back to providing spiritual harmony within oneself, and with the natural environment where you find yourself.
Sandi Dawkins (32) is a YouTube creator and photographer who lives in Newport Oregon . She said, " Building small zen towers with rocks I find on the beach, and in the woods, has been one of the most healing experiences for me. I normally take just a few, definitely no more that eight, to stack in thankfulness several times a week.
Stacking stones benefits me by forcing me to focus on choosing how I want them to balance, and what prayer I attach to each small rock.
The practice of patience and focus on the immediate present have helped me tremendously with the meditative videos I create for my YouTube channel. It is the practice of true mindfulness.
Lately, I have been bringing a journal with me because I think of so many creative phrases to use in my videos. I feel unhurried and at peace while I am finding just the right balance for each little stone. The mind is forced to become very quiet.
This simple zen practice of stacking stones has increased my profits on YouTube tremendously. I have thought up some of my most powerful content and affirmations while sitting right on the seashore, or on a little trail, back up in the forest."
**********
John Etheridge (49) is an online entrepreneur who lives in Astoria Oregon.

He said, " The benefits of stacking stones are definitely real. They include
- Complete focus on what you are doing. 
- Problem-solving for stones that are irregular
- Surrendering to quietness and the sounds of only Nature.
- Becoming one with vibrant but peaceful energy.
- Centering yourself with the subtle vibrations of Earth.
- Using creativity to think of unique stack designs
- Gaining patience.
- Connecting with the spirit of others who find your stack.
- Channeling blessings through individual stones.

These are just some of the benefits I've been fortunate enough to experience. In truth, all of them have helped me become more profitable in my online business .

Before I started stacking stones, I was creating a lot of stress in my life. I was rushing from one interruption to the next. I was spinning my wheels in spiritual quicksand. 
Now, I take problems head-on, but with a much calmer approach. I know I will find an answer, or find someone who knows.
Stacking stones has allowed me to become more centered and more effective . "
Stacking Stones On The Beach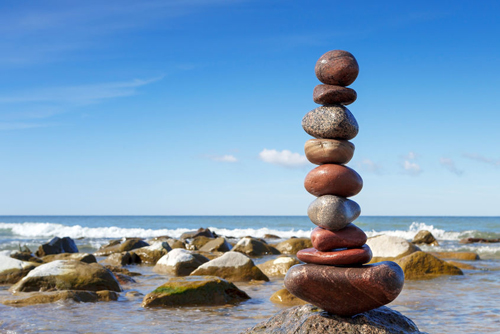 Stacking stones on the seashore is far more prevalent than in other outdoor areas because of a couple of reasons.
One, the beach seems to make people more calm and contemplative. And, two, rocks on the beach have been worn smooth from centuries of tumbling along the ocean floor. They do not have jagged edges, like those in the forest. 
Jilli Jen Petersen (41) a therapist from Rockaway Beach OR, said, "The beach is a natural setting to become more reflective and introspective. The gentle breeze off the ocean, the rhythmic tumbling of the waves, and the soft grains of sand under your blanket all combine to elevate a sense of serenity.
Stacking stones has become more popular on the coastal beaches. I think one of the reasons is the ease of accessibility to so many small, smooth rocks. I walk every morning that I can, during low tide, and I see thousands of flat black stones washed up from night before.
I walk north to the South Nehalem Jetty, and usually take time to sit and build a small alter. 
Other times, I will put a few stones in my pocket, and build one near the #25 Marker leading into Manhattan Beach State Park.
To me, it is a way to have a connection with the natural world and the Universe. There is a deep stillness of the mind when you are quiet in such a beautiful setting as Rockaway, and you are focused with gratitude when stacking stones.
I attach a prayer or blessing to each small rock. Many times, it will be a prayer for an individual, or me asking God to bless and protect my children as the begin to find their way through Life.
Stacking stones on the beach ties into the essence of temporary. The small alters I build near the South Jetty will be washed back to a natural state when high tide recommences. It gives the next person a blank slate to create their own work."
Stacking Stones In The Forest
Stacking stones in the forest is not as prevalent as it is on the beaches, yet you can still find small alters built along well-marked trails and faint paths. 
At one time, stacked rocks were used as identification of being on the right path to a settlement. They were directional in nature, and part of the frontier navigation system.
Jared Halstead (58) a postal worker in Shoreline WA, said, "I love being out in the woods. There are plenty of state land and national park land within an hour's drive from where I live in Seattle.
My wife and I hike almost every weekend. There is just so much beauty.
We build little alters when we sit and rest. It's normally only about 6-7 stones, and we make sure they are within arms reach. We don't want to disturb the environment.
Our reason for stacking stones is purely spiritual. We dedicate a prayer with each small rock. We know that high winds will blow them over, and they will return to their natural setting. The prayers will then be carried into eternity."
Stacking Stones In Mountain Wilderness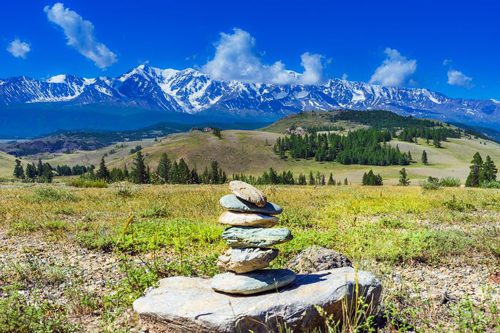 It is not out of the ordinary to find small stacks of rocks in mountain meadows, picturesque high-country canyons, or overlooking beautiful vistas.
Visitors leave these small alters as symbols of connection between their spirit and Nature. 
Nate Saddleman (36) is a former big-tech coder who now travels the western United States with his wife in a Mercedes Sprinter. He said, "We spend a lot of time in the high-country of Utah, Wyoming, and New Mexico. We come across small alters of stacked stones on a regular basis.
Many of them, are presented near a natural resting area which overlooks a beautiful view. They are usually about 5-6 stones high. Nothing elaborate, just an offering of recognition for the beauty God or the Universe created.
Jill and I quite often make one, ourselves. We are so thankful to be able to lead the life we do. When stacking stones, we attach a small prayer of gratitude to each one. The meaning we attach to each rock expands our own spirit."
When Stacking Stones Can Become A Problem
Stacking stones in the forest and mountain areas has actually come under fire in the past few years.
Sadly, for some people, the spiritual connection seems to be lost and the stacks become more about size and engineering savvy.
Neal Payton (47) is a U.S. Forest Service employee from Sisters OR. He said, "Stacking stones in the back country has gotten out of hand in some districts. Here, in the Deschutes National Forest we've seen the start of huge cairns, but we've been able to dismantle them and redistribute the rocks before much damage had been done.
When people start taking huge quantities of large rocks, and stacking them in a pile, it causes hardship on the environment, and becomes a danger to humans.
Moving so many large rocks disturbs the vegetation. It alters erosion controls. It fractures dwellings for small forest animals, and can upset their birthing cycles. There are just a host of problems when people decide they are going to create a monument.
Making a small, personal, little stack is not going to harm the environment. I get that people are thankful to be out in such beautiful terrain and want to connect with the Earth and the Universe.
Those small alters do not cause any problems. It is the extreme stacks of rock that become both an eyesore and a hazard."
Stacking Stones In A Zen Garden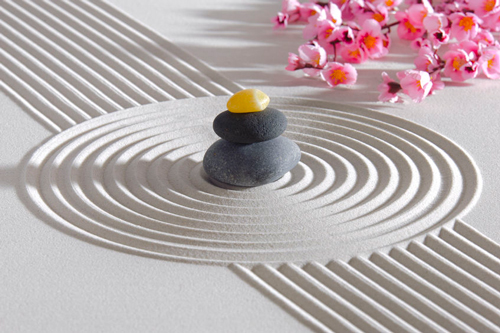 Stacking stones in a zen garden has been a good alternative for people living in the inner city. 
Zen gardens can be purchased, as can separate stacking stones.
Jake Freeman (56) is a teacher in inner-city Detroit. He said, "I am about as far removed from Nature as you can get. My wife and I love to hike and mountain bike, out West, but it will be another two years before we both retire.
We plan to move to either Taos or Santa Fe.
In our travels, we have seen hundreds of small alters of stacked rocks honoring the connection of man and Nature.
Since we are locked in the inner city. We decided we would make a miniature Japanese zen garden in our den to keep our connection with peaceful energy.
We purchased a small kit online, but found ourselves wanting something more. From there we built a little 4'x3' rectangle with a bamboo bottom, and filled it with fine white decor/therapy sand.
We use the small tools from the first kit we purchased to create intricate designs before stacking stones to accentuate it.
The whole experience is one of calming and focused gentleness. It's a great meditative modality for us. It helps us become grounded and re-centered. A very good way of revitalizing our spirits."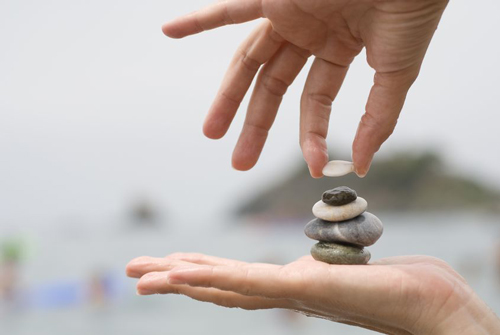 Connecting with the Universe can take many forms. Stacking stones is just one of the ways to refresh your spirit as you seek to slow down the busyness of your day, and cultivate calming mindfulness.
Go To Refresh My Spirit Home from Stacking Stones page
What Are The Benefits Of The Beach?
How Can I Become More Mindful?
Filed Under:Stacking Stones
More Books For Spiritual Growth